The canal is there to cut across from the Pacific to the Atlantic, or from Colón to Panama City. History and facts are on another blog here. It saves going the long way round either South America, or the far North and Canada. The canal and railroad were accelerated by the gold rush, they are now cruise ship features. There are maybe three main reasons to visit the Panama Canal.
It is an engineering master piece.
You are on a world cruise and the land is in the way
You would like to experience it, but briefly
You are a collector, and need it ticked off your list.
A combination of the above will make the choice of partial or full transit a lot clearer, because if you just want to say been there, done that and like to see places, then a partial cruise may well fit the bill. If you want to say you have done it all, and are amazed at the engineering masterpiece then you may stop at nothing less than the full transit. If you're on a world cruise, then it may well just be in the package.
The Atlantic is the Azores and Canary Islands, en route to the Caribbean, the Pacific is Hawaii, Pearl Harbour, Polynesia down to Australia.
The partial transit are cruises from the Caribbean or Florida that sail into the Panama Canal as far as Gatun Lake, they then turn around and head back to the Caribbean. If you are an engineering geeks or you want to say you have done the Panama Canal, then the partial transit may never be enough. That said you can get partial transits from the west coast.
If you feel when you have seen one lock you have seen them all, and a ship pulled by a train is fun, but where is the bar? Then the partial transit will almost be too much. If you like cultural or beaches more than locks and lakes, go partial. It's that simple. Actually the ships are not pulled by the little trains, the ships use their own engines to go forwards, the trains are used for side to side and braking – if you are bored by that news, take the partial transit.
P&O Panama Transits Princess Cruises to Panama MSC Cruises to Cristobal Fred Olsen
The full transit of the Panama Canal takes a full day to cross and will almost always be in daylight hours. Whilst it can be quicker, it is like leaving the theatre after a show, there can be congestion. On a full transit your ship will pass through all six locks. Three locks in, and three locks out, and they are there to save having to dig out and excavate all that land, not because the two seas are at different heights. You will sail through Gatun Lake which is nearer the Caribbean side, and the Culebra Cut. The full transit cruises offer a wider choice of ships, and there are ships that regularly pop in and out doing the partial transit.
Princess Cruises page on Panama Cruise, all three types, click here
Ships that regularly do the Panama ocean to ocean – the full transit include the Coral Princess, Island Princess,
Ships that regularly do the partial transit include (from East Coast) Caribbean Princess
Ships that do a partial transit from the West Coast include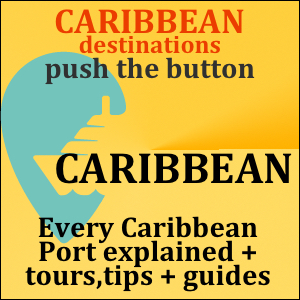 Most full transit cruises are 14 nights, partial cruises can be shorter but often about 10 nights. Longer cruises are the world cruises and repositioning cruises to get ships between areas like the beginning and end of the Alaska cruise season or Polynesian visits. These world and reposition cruises use the canal as it was designed to be used, the save time and money getting from A to B. Panama Canal cruises normally fall between late August to May, and it can be very hot in the summer. But it can rain, up to four times more rain than the UK. Cruise transits often cost a little more as the canal charges the ship for its use. Most partial transits combine the stop in Panama with visits listed in our Caribbean Season menu. You might want to consider including a tour to Panama City, or ride the Panama Canal Railway. You may want to take a smaller boat and cruise through the Miraflores Locks. These will require a little more planning because some of these things need to be booked before you travel, or before you book as these can complicate your travel arrangements.
Pearl Harbour, Hawaii Filming in Fiji Bora Bora Filming Kong in the Pacific Oahu North Shore
Making partial transits is by far the cheaper option. If you want a non formal dress transit, then look at Norwegian. This is a great film from Eduardo Brown. It feels real, because he was born near there and lives near the canal.
Please subscribe to the Doris Visits YouTube channel here
Cruise Doris Visits Subscribe. Thank you
Cruise Doris Visits Subscribe. Thank you
This is a Coral Princess partial transit from the Caribbean side. Locks start 6 minutes in.
Cruise Doris Visits Subscribe. Thank you
The Doris Visits page on dress code, why, how and should I?