Built by Meyer Werft at their shipyard in Papenburg, Germany, this was the first P&O ship we went on, with Stuart guesting as an after-dinner speaker. Many years later, after he had retired from the movie industry in 2017, we joined in Boston and stayed on until Bermuda. We now love travelling the world as cruisers.
The Aurora has changed from a family ship to an adult ship and the firm favourite is rumoured to be set for a refit in 2025 and be kept on by P&O which is great news. The uCruise Aurora and Arcadia chat site members can help you with any questions you may have about this ship after seeing the extensive film. Between them, these cruisers have a wealth of experience which is shared in a friendly manner.
Specialist Aurora chat groups sit as sub groups to the main Aurora Group meaning there is a whole body of members and a wealth of algorithm protection that has been established.
Chat groups for the AURORA Grand Cruise……..
Aurora R401 chat group – 2024 Grand Cruise click here – join – tell others and share, share, share
Aurora R501 chat group – 2025 Grand Cruise click here – join – tell others
Click the picture for the main group, and you can start your own chat group within the group under EVENTS if your cruise is not there. Simply use the three dots and start an EVENT with the number and date of your cruise. It is all set up.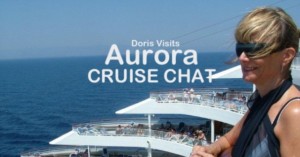 Aurora was named by Princess Anne in April 2000, and she is the ship's Godmother. It is a charming ship, and its sports bar is one of our favourite places to relax or enjoy the house band. A mid-sized ship with an elegant, tiered stern, long bow and sleek funnel she stands ten decks, weighing 76,000 tonnes. Aurora can cruise at 24 knots, can have 1,950 passengers but the top number is nearer 1870 guests. It has a crew of 850.
The ship was hosting a conference of IT guests off New York as the attacks of September 11th, 2001, hit and was guarded by the coast guard. We were on it when Irma hit the Caribbean and the sea was a little rough. We were four hundred miles from the centre of the storm, and the Aurora glided through at 18 knots without most of the passengers knowing it was rough outside. It is a very stable ship.
SHIP TOURS help you choose your next ship Queen Mary II Aurora Ship Tour Marella Discovery 2 Azura Ship Tour Cunard Queen Victoria Britannia Ship Tour Virgin Scarlet Lady Arcadia Ship Tour Ventura Ship Tour SUITE on P&O Spirit of Adventure Iona Ship Tour Every cruise ship and every fleet listed here
Aurora is known for her longer cruises and has everything a cruiser could want, including world-class dining, a spa, a salon, a cinema and a theatre. At Aurora's heart, you'll find a four-deck atrium with a stunning 35ft sculpture of two figures veiled in water. Aurora was repainted in P&O's new house livery of the Union Flag on the bows in 2014, and the funnel was painted dark blue instead of buff. The lovely thing about the Aurora is that it feels friendly and intimate and if you forget your suntan lotion it is not far to walk back to your cabin. But it has the amenities of a large ship. The glasshouse restaurant sometimes takes over the beach house on deck in nice weather and if you rent the most expensive cabins you are allowed to eat breakfast in the glasshouse.
The Asian restaurant is on board and beautifully situated. Entertainment is first class and there is a great selection of films to watch in the `Playhouse cinema' which doubles as a venue for classical acts.
Cruise Doris Visits Subscribe. Thank you
Please subscribe to our YouTube channel while watching or follow and like our Facebook page Doris Visits.
PORT GUIDES filmed by Doris Visits are a great way to research, remember your cruise and share your memories with your friends. ATHENS GUIDE ANTIGUA CRETE GUIDE RHODES ST PETERSBURG ROME DUBROVNIK KEY WEST STATUE OF LIBERTY TOUR STAVANGER