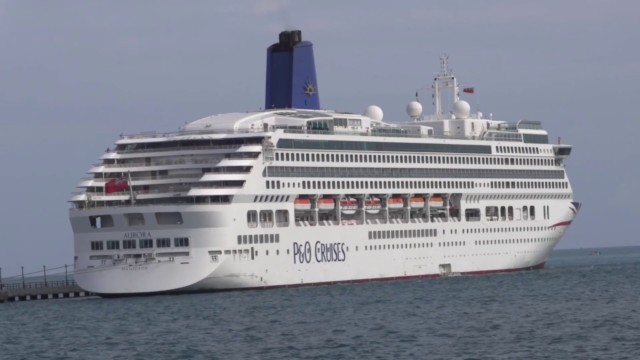 Built by Meyer Werft at their shipyard in Papenburg, Germany, this was the first P&O ship we went on, with Stuart guesting as an after dinner speaker. We have just travelled on it down from Boston to Bermuda, so here is an up to date 2017 look at the ship. However she is in for a minor refit March 2019, and will sail on as an ADULT ONLY SHIP. The refit can be expected to focus on removing the kids areas.
Azura Ship Tour Britannia Ship Tour Arcadia Ship Tour Oceana Ship Tour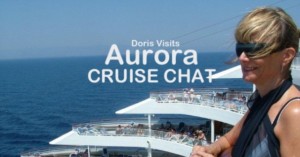 Aurora was named by Princess Anne in April 2000 and she is the ship's Godmother. A mid-sized ship with an elegant tiered stern, long bow and sleek funnel she stands ten decks, weighing 76,000 tonnes. Aurora can cruise at 24 knots, can have 1,950 passengers and has a crew of 850. The ship was hosting a conference of IT guests off New York as the attacks of September 11th 2001 hit and was guarded by the coast guard. We were on it when Irma hit the Caribbean and the sea was a little rough though we were 400 miles from the storms centre but the Aurora glided through at 18 knots without most of the passengers knowing it was rough outside. It is the rear of the Aurora used in all our cruise ship chat icons.
Aurora is known for her world cruises and has everything a cruiser could want, including world class dining, spa, salon, cinema and theatre. At Aurora's heart you'll find a four-deck atrium with a stunning 35ft sculpture of two figures veiled in water. Aurora was repainted in P&O's new house livery of the Union Flag on the bows in 2014, and the funnel painted dark blue instead of buff. The lovely thing about the Aurora is that it feels friendly and intimate and if you forget your sun tan lotion it is not far to walk back to your cabin. But it has the amenities of a large ship. The glasshouse restaraunt sometimes takes over the beach house on deck in nice weather and if you rent the most expensive cabins you are allowed to eat breakfast in the glasshouse.
The Sindhu restaurant is on board and beautifully situated. Entertainment is first class and there are a great selection of films to watch in the `Playhouse cinema' which doubles as a venue for classical acts. LASSICAL RECITAL & PERFORMANCE ACTS ON BOARD SHIP
Please subscribe to our YouTube channel while watching.
Cruise Doris Visits Subscribe. Thank you
Azura Ship Tour Britannia Ship Tour Arcadia Ship Tour Oceana Ship TourTAKING DRINKS ON BOARD ? CAN I ? HOW MUCH ?
To see a collection of deals specific to the Aurora cruise ship – click here
For Aurora's full yearly cruise list click the picture. Looking for a family ship, use the main menu above. If you are worried how to choose which cruise, which ship and where to go, take a look at our how to choose a cruise blog.
If you enjoy seeing more about the entertainers you see at sea, then take a look at our show cast! Here is our growing menu of those who work at sea.
CRUISE INSURANCE BELOW – OR OUR INSURANCE BLOG CLICK HERE