Kusadasi is a popular beach resort on the Aegean coast also famous for its genuine fakes and historic ruins from ancient Greece to the Roman Empire.
The new cruise port has a small shopping centre with a duty-free which you can only use on your way back to the ship and a very helpful tourist information centre which gives free maps.
The port is in downtown Kusadasi and it is about a 5-minute walk into the main area with shops. Parallel to the main street is the very lively night-time Bar Street. There are clubs and discos with some open until dawn.
Search for the great cruise novel Cruise Ship Heist
Just past the arch in the main shopping area, and to the right is the evening dress and cabaret act dress shop MAGIC… tell Fenzi Doris Visits sent you.
The castle is to the right leaving the port, a pleasant seven-minute walk.
The promenades and some beaches are to the left along the seafront.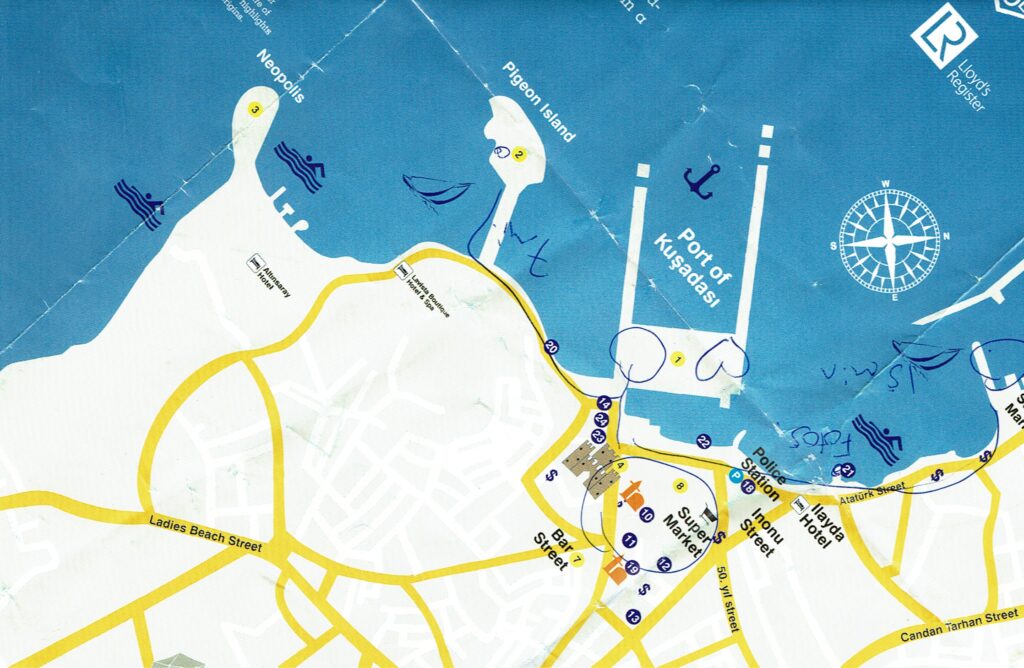 The best beach, Lady Beach, is beyond the castle; a bus or a taxi. Even more beaches and resorts are further away on either side as this is a holiday resort as well as a historic centre. It is easy to explore on foot, as Jean shows in the film.
'Kus' means bird, 'ada' means island and the island of Güvercin Ada is also known as Pigeon Island. It is connected to the mainland by a causeway with sunbeds on one side and boats for tours moored on the other side. The small island is a castle-like walled structure with gardens and benches to while away the day in the sun. Kusadasi is a great centre for so many adventures.
Phygale 10km
Ephesus 15km (see our film)
Selçuk 20km
House of Virgin Mary 20km
Cave of Zeus 20kms (local boats)
Davutlar Kursunlu Monastery 14km
National Park 23km
Claros 17km
Didyma 53km
Prienne 38km
Miletos 63km
Izmir 90km
Bodrum 130km (see our film)
Our What To Do do page has many tours, that take a minute or so to load.

Please share or embed our films, and watch on YouTube and Facebook.
The hillside is famous for pretty villages of cobblestone lanes, souvenirs, homemade wines and Gözleme – griddle bread with various fillings and local crafts which you should try to see before returning to the ship.
Marella Cruises to the Eastern Mediterranean – click here for Marella Cruise's own web site – Eastern Mediterranean Cruise deals pageMarella Cruises to the Western Mediterranean – click here for Marella Cruise's own web site page for – Western Mediterranean Cruise deals pageAurora Ship Tour Azura Ship Tour Britannia Ship Tour Arcadia Ship Tour
Please subscribe to the Doris Visits YouTube Cruise Destination Guide channel here