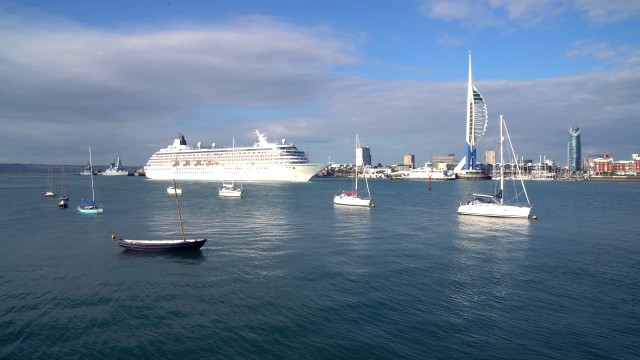 Portsmouth has the attraction of being the home of the British Royal Navy. About 75% of the UK's fleet is based here including the UK's new aircraft carrier HMS Queen Elizabeth. As a historic shipyard you might wish to afford time to see the Mary Rose Museum, the historic HMS Warrior and HMS Victory because if you were abroad you probably would. But, a beach holiday is not far away! yes, just a ferry ride away is the Isle of Wight with an unusual micro climate. See our film on the IOW which also shows you how easy it is to get to Portsmouth from Waterloo Station by train, and the IOW Botanical Gardens has its own film.
The Portsmouth passenger terminal was opened in May 2011 but has yet to be taken up by very many cruise operators who have long term deals elsewhere. Current cruise operators include Ponant, Phoenix Reisen, Viking and Saga. The Viking Star, Viking Sky and Saga Sapphire are amongst the ships using this port.
If you wish to stop over in Portsmouth, then the local site will be helpful. www.visitportsmouth.co.uk
Menu of all United Kingdom popular Cruise PortsMenu of Near UK ports from Guernsey, to the North SeaMenu of near UK ports from Lorient in France, NW Spain, Portugal to GibraltarMenu of Cruise ports in the Baltic Sea
If you have never ventured on a cruise and like romantic adventure novels, then try Her Virgin Voyal and you will imagine it with the aid of the destination films on here on Doris Visits.
Violet Beckett takes her first cruise, a Canary Islands Cruise which is very accurately portrayed. She is a tormented lady who for years was agoraphobic and may just be swapping one safe haven for another, or is she about to come out of herself and find love. Maybe that is too much to ask for, maybe she is too keen and it will all end in tears. Follow author Sally Katz by clicking her name and then on the author page on Amazon, click follow. Then as she releases a new book your are informed.