The dress code does catch guests out. We have seen some very embarrassed faces on Black Tie nights when some passengers realise people do make the effort. That is not to say all do, they do not. Many prefer to stay relaxed and eat at the buffet. But, we have seen many buy a black suit and ties in the shop to comply, and some sitting determined that it does not apply to them until the officers on dress-police-duty suggest the guest might feel more comfortable somewhere else. Why might that happen to someone who was expecting to stay casual? Scenario – you meet a couple around the pool or on the beach, get on great, they suggesting eating or drinking together. Or, one of the couple decides they would like to use the whole of the ship and dress to impress. The grand ship can have that effect on anyone.
Dress code was simplified back in 2016. Casual evening wear used to require a jacket or blazer, but even that has gone. It is like a casual night at a golf club, a collared shirt and no denim jeans. We have seen smartly tailored denim allowed on smart casual nights, but let us suggest it is rare. Cruises are where people enjoy dressing up. The ships have areas where you can enjoy the evening without dressing, these are normally the buffet and the pubs. The ships are different – Azura and Ventura are the same ships, but Azura is the least dressy in the fleet, the Ventura is far more dressy (our opinion as regulars on both) The Arcadia is very dressy.
DRESS CODE – Who doesn't have one? Who does? Why, how and should I?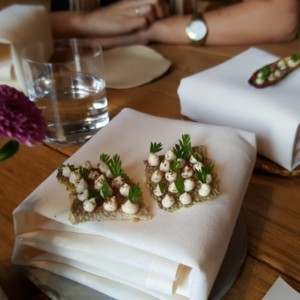 The bars on Gala Black Tie nights enforce the dress code and there are normally canopies to make it even more special. From 6 pm you will normally be politely asked to finish your drink if you are not in the evening's dress code. Children should not wear denim on gala nights though they are not expected to be in black tie. There are clear signs up outside the areas all day so you are aware, it is on the web site and in the brochure and forms terms within the holiday. So as we do not get it wrong, let us quote the P&O web site as of 2018.
Evening Casual
Stylish resort or leisurewear is ideal for Evening Casual nights, for example, casual separates or dresses for ladies and open-neck polo shirts and casual long trousers (not shorts or 3/4 length trousers) for men. A jacket and smart trousers can be worn but are not compulsory. Smart dark denim is also fine, but not trainers, football shirts or tracksuits.
SAILING UNDER UP RIVER & UNDER HUDSON BRIDGE
Black Tie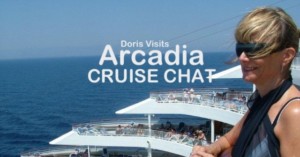 Black Tie nights foster a rather special atmosphere on-board and we know that our guests adore dressing up and it has long been a part of the P&O Cruises experience, adding a touch of glamour and a real sense of occasion to evenings at sea. Seeing an entire ship full of people transformed into their finery is quite something to behold. Ladieswear glamorous evening wear including cocktail dresses, ball gowns or even smart trouser suits. For men, dinner jackets or tuxedos are the norms, but a dark lounge or business suit and tie can be worn as an alternative. You can also wear formal national dress and military uniform.
The following venues are exclusively Black Tie venues when Black Tie is the Dress Code of the ship.
Arcadia: Intermezzo, The Crow's Nest, Meridian, Sindhu and Ocean Grill restaurants.
Aurora: Anderson's, The Crow's Nest, Alexandria, Medina, Sindhu and The Glass House restaurants.
Azura: Blue Bar, Planet Bar, Meridian, Peninsular, Oriental, Sindhu, The Glass House and The Epicurean restaurants.
Britannia: The Crow's Nest, The Epicurean, Meridian, Peninsular, Oriental, Sindhu and The Glass House restaurants.
Oceana: Magnums, Yacht and Compass, Ligurian and Adriatic restaurants.
Oriana: Anderson's, The Crow's Nest, Peninsular, Oriental and Sindhu restaurants.
Ventura: Red Bar, Metropolis, Cinnamon, Saffron, Bay Tree, Sindhu, The Glass House and The Epicurean restaurants.
Daywear
During the day you can wear exactly the same as you would on any other holiday. Casual shirts, shorts, trousers and beachwear are ideal. For going ashore and walking on deck, flat comfortable shoes are a must. You will also need a lightweight jacket or coat for cool evenings and occasional showers. Don't forget sun protection cream, a sun hat and sunglasses as the sun is much stronger at sea.
Children
The Dress Code for children in the evening is Evening Casual, regardless of the adult Dress Code. We do ask that children don't wear denim on Black Tie nights. When dining in the informal or buffet restaurants children can be casually dressed. If children are going to be with you in the evening in the formal restaurants and theatre then they can still dress more casually adopting our Evening Casual Dress Code.
GAME OF THRONES TAKE ON DUBROVNIK
Fancy dress and novelty clothing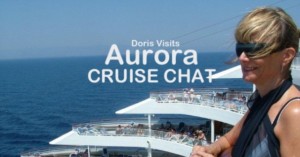 We don't want to dampen anyone's fun but coming into effect on 1 January 2018, fancy dress and/or novelty clothing will not be permitted onboard. We reserve the right to deny embarkation to guests who are inappropriately dressed. This is a change from the policy wording printed in the back our January 2018 – October 2019 brochure. The only exception to this is on official theme nights when guests are invited to dress to reflect the theme. This policy, however, does not apply to children 16 and under.
Aurora Ship Tour Azura Ship Tour Britannia Ship Tour Arcadia Ship Tour
Personalised and slogan clothing
In addition to the fancy dress policy, clothing personalised with images/slogans, and/or clothing that features offensive language, images or slogans, will not be allowed on board at any time.
P&O Cruises to St Petersburg – Click here
General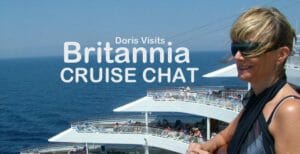 The Dress Code is applied in most restaurants and bars for guests over 18 years of age, from 6 pm. Please wear the appropriate attire to the ship's bars and restaurants; blue or worn denim, sandals (for men), sleeveless tops (for men), flip flops and shorts are not permitted in ship's public areas during the evening.
Swimsuits are not permitted in the lounges, interior bars, restaurants or reception area at any time. A shirt and suitable footwear are required while indoors and when using the buffet restaurants.
You may also find the following question helpful: What will the dress code be whilst I am on board?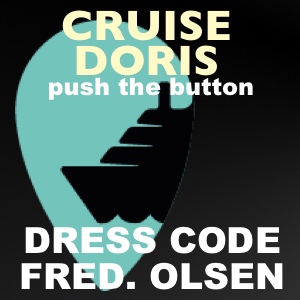 The above in italics was taken from the P&O web site. Whilst the rules do not vary, you will find Baltic Cruises tend to be just a little more dressy than say the Caribbean. Cruising is still special, take a look at the Epicurean on an informal night, smart casual. There is a laundry room with ironing boards and it is the centre of gossip early on formal gala nights.
Cruise Doris Visits Subscribe. Thank you
If you are thinking of a Baltic Cruise (click) here is our menu of every major Baltic Cruise destination and some tours and excursions on video, plus tips.
TAKING DRINKS ON BOARD ? CAN I ? HOW MUCH ?
How about reading one of our adventure cruise ship crime novels written by the team here at Doris Visits who have written movies and TV until these books.