PROGRESO, Yucatan, Mexico – The port city of Progreso is famous for its 7km wharf, the longest in Mexico. Here you will find a bustling promenade popular with the locals as well as tourists.
The beach has fine white sand, some of the thatched bars have swing seats. The local food is seafood, a seafood soup, fish cooked in banana skin and snails from the river.
The Tour! Chichen Itza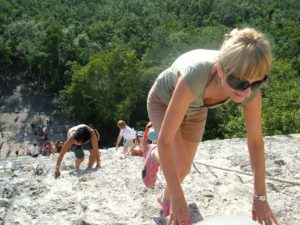 This is the tour that so many look forward to.
Guests are no longer allowed to climb this huge monument so we decided to share some pictures we took from the top and in the days when you could. You can see why it is a modern health and safety nightmare. The ruins are about 2 and a half hours from the port but well worth it.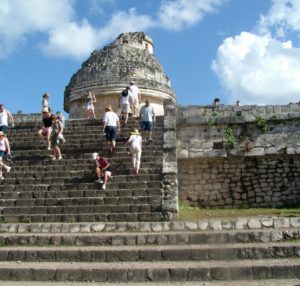 Chichen Itza, one of the most important archaeological sites on the American continent and once the home of the great Mayan Empire, if you take the tour you will be led through the legendary city, extending over 6 square miles with hundreds of structures where they played strange balls games that might be an early basketball. As well as the ball court you will see the pyramid of Kulkulcan, the mystical cenote, the temple of the warriors and the observatory.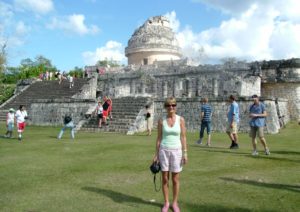 There is likely to be a charge for using cameras and video equipment, made by the Mexican government. Tripods are not allowed. It is not unusual to find charges for taking pictures, Bob Marley's house in Jamaica does the same…
These are pictures you will keep and show friends, so it is worth a few dollars.
CAVES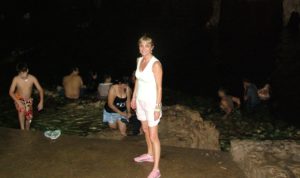 Take a face towel, climbing shoes, hat, sun cream, water and swimming trunks and a towel if going to a cave that might let you swim.
Bathers and a towel should be packed in case you visit an underground cave. There are numerous underground caves, all equally as fascinating and many afford the opportunity to swim, so, you might just like to treat your skin to the minerals.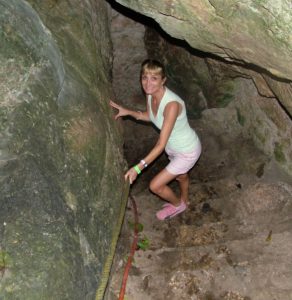 … and as we mentioned, shoes that you can walk in as some steps will be slippery. You might even take a torch. This is Mexico, and it is one of our favourite places to go just to enjoy all it has to offer, so, we could certainly just be tempted to sit at the beach or on the promenade and soaking in the atmosphere.
But, below are the tours you might be offered and that might make you wish you were staying longer.
Chichen Itza Mayan Ruins – 7.5 hours
Discover Merida City – 5.5 hours
Dzibilchaltun Mayan Ruins – 3.25 hours
Historic Merida with Salsa and Salsa – 4.5 hours
Mangrove Kayaking and Beach – 4.25 hours
Uxmal Ruins and Hacienda Orchil – 6.5 hours
Xcambo Ruins and Dzemul – 4.5 hours
Please share this post with friends going to this great site. Oriana seems to like this port.
Disaster in the Caribbean! The book series has been in the charts for months. Book 3 sees Violet with a new job onboard and a new boss in the USA and Caribbean. It does not go well. Adult action romance on a cruise. Follow author Sally Katz by clicking her name and then on the author page on Amazon, click follow. Then as she releases a new book you are informed.