When the hull was laid for the Queen Victoria, the fourth Vista Class ship, named partly because of the extensive use of glass in the superstructure, ideas were still being developed at Cunard. The first three ships in the class being the 2002: MS Zuiderdam, 2003: MS Oosterdam, 2004: MS Westerdam. The hull destined to be Queen Victoria became the adult only Arcadia. The ship we know now as Queen Victoria waited till 2007 to be the sixth ship in this now hybrid Vista/Spirit class, with an extra passenger deck. It was followed by MS Eurodam, Costa Luminous, MS Queen Elizabeth, MS Nieuw Amsterdam and the 2010: Costa Deliziosa. These ships are similar to the Spirit Class ships that Carnival operate and the Radiance Class ships Royal Caribbean operate as well as the Coral Princess and Island Princess Panamax ships operated by Princess Cruises. This, therefore is a well established designed and very popular ship. Cunard have many distinctive features, the main major design one being the second balcony over the Queen's Room, ballroom. The Victoria has also just had the circular Hemisphere Lounge at the front just behind the Commodore club, re-deisgned and fitted as the Yacht Club, doubling as a disco come live soul band at night, and a meet the guests and celebrities during the day. It is now one of the most popular rooms on the ship which is often standing or dancing room only. It is said this design was chosen because the old design of the first Queen Mary 2 was so expensive to dock. CUNARD CRUISE DEAL @ THOMAS COOK
The Queen Victoria holds 2,081 guests over 12 passenger decks and has about 900 crew, whereas the hull that was to be and is now the Arcadia holds 2300 guests on 11 passenger decks. The Vista design has a high percentage of ocean view staterooms, and a high percentage of those have verandahs. But, the difference is in the service that is on offer, especially if you are in the select Queen's Grill or Princess Grill suites as passengers are separated by stateroom class. Stateroom grades Q1 to Q7 are allowed to dine at Queens Grill, Staterooms grades P1 to P4 are assigned to Princess Grill. The Grill passengers also have their own lounge. There are 18 classes of stateroom, the standard is a 240-470-sq.foot balcony room. Standard balcony, non balcony and inside cabins bear a remarkable similarity to the P&O cabins, compare films. Cunard basic Stateroom v Azura Basic Cabin. These cabins are assigned a table in 'set-dining' in the Britannia Restaurant. The Britannia is one of the focus areas for the refit due 5 May to 4 June, so maybe they will modernise to one floor being free dining as they have now done on similar size P&O ships. Breakfast and lunch are free dining so there is a chance to meet even more guests then. CUNARD CRUISE DEAL @ THOMAS COOK
If you are looking for other differences between Cunard and P&O, the drinks on Cunard are a little more pricey, plus there is then a 15% service charge added to each purchase ticket before you sign (for drinks and most other goods), then a service charge to the room too, which on our last tour (March 2018) was $11.50 per night per person, (this is charged to guest staff too). This is non negotiable. The dress code is certainly not optional and after 6pm no jeans are allowed anywhere on the ship. The orange juice flows all day, the news-sheet is delivered to your door with the ship's paper. Other nice additions are the tea and cakes silver service in the Queen's Room mid afternoon, and the string quartet that plays endlessly on the ship. Our favourite areas were the gin bar and the Yacht club. At night the ballroom dancing in the Queens was replaced by a party band it was heaving with queues for chairs and drinks. We will be back on this ship again later this year. When in warmer climates, the Pavilion Pool is the nightclub, when cold, even the covered area is cold because the doors open wide and frequently.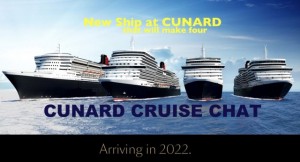 The Winter Garden has a glass-roof and is warmer. The ship has a classic dark wood style, adorned with old Hollywood pictures, many from trips on ships owned by the group. The Library has a wonderful wooden spiral staircase joining its two-deck-6,000-book facility and large paperback swap area. Ask those who know best, those who cruise and are on our hosted Cunard Cruise community and chat Facebook page. Click the picture.
Cruise Doris Visits Subscribe. Thank you
GAME OF THRONES TAKE ON DUBROVNIK OUR ANGELS & DEMONS TAKE ON ROME
The first daily ship's paper will welcome you on board and probably tell you that in 1839, Samuel Cunard (from Nova Scotia) was awarded the first British trans-Atlantic steamship mail contract. Take the paper with you round the ship as there are so many gatherings in different areas it is good to familiarise yourself with them and the ship.
Golden Lion Pub. (Limited lunch menu, pub grub, included in your package)
Verandah Restaurant (off the Atrium, French specialty restaurant at surcharge)
Britannia Restaurant (1351-seat, 2-level Dining Room; set dining)
Lido Restaurant (450-seat buffet-style restaurant for Breakfast and Lunch)
Lido Coriander/Prime/Bamboo (a section of the Buffet turns into an Indian/Steak & Seafood/Asian Restaurant, just as the Beach House does on P&O. Premium is payable. alternates between the three)
Winter Gardens Lounge (supper club/formal dining venue; features gourmet food and Afternoon Champagne Tea)
Queens Grill Restaurant (142-seat, exclusive for Queen's Grill Suite guests)
Princess Grill Restaurant (132-seat, exclusive for Princess Grill Suite guests, Grills normally have the same menu)
The Courtyard Restaurant (40-seat; serves Grills staterooms guests only).
TASTER CRUISES ACROSS THE NORTH SEA TO BRUGES AND HAMBURG
CRUISE NOVELS – Disaster in the Caribbean! Violet has a new job on board and a new boss in the USA and Caribbean. It does not go well. Adult action romance on a cruise. Follow author Sally Katz by clicking her name and then on the author page on Amazon, click follow. Then as she releases a new book your are informed.
NEW YORK LIBRARY GRAND CENTRAL STATION NEW YORK BIG BUS TOUR – RED NEW YORK BIG BUS TOUR – BLUE NEW YORK BIG BUS TOUR – PURPLE NEW YORK ELLIS ISLAND NEW YORK CENTRAL PARK STATUE OF LIBERTY TOUR NEW YORK – JUMPING OFF THE STATUE OF LIBERTY BROOKLYN CRUISE TERMINAL ACCESS ROCKEFELLER CENTER SAIL UNDER UP RIVER & UNDER HUDSON BRIDGE EMPIRE STATE BLGD @ NIGHT