Elizabeth and David take a trip just outside Lisbon to one of the greatest Rococo buildings in Europe, the Royal Palace of Queluz. Queluz is in the parish of the modern-day Sintra Municipality of Lisbon. Rococo is an exuberantly decorative style from the end of the Baroque period which is decorative architecture that began in France in the first part of the 18th century. Work on the palace began on this master piece in 1747 under Portuguese architect Mateus Vicente de Oliveira, during the reign of Louis XV, and was said to be a reaction against the plain, geometric, formal style of Louis XIV.
The Palace of Queluz is Portuguese, and famous for the incarceration of Queen Maria in her descent into madness as the fluid curves, and the use of white and pastel colors combined with gilding which craves attention. There is no point in describing it as David shows you the palace and how to get there from the port. Train Euro3, Entrance Euro7. It has been used in movies, including 1996 mini series Gulliver's Travels where it doubled as Brobdingnag. Following a serious fire in 1934, which gutted one-third of the interior, the palace was extensively restored, and today is open to the public as a major tourist attraction. The palace wing, the Pavilion of Dona Maria, is now used as a guest house for foreign heads of state visiting Portugal. This is an excellent film and a terrific suggestion if you are a regular to Lisbon and have seen the city. For Lisbon see Jeans film on Seqway Lisbon.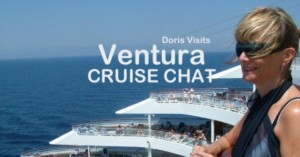 The Ventura is a regular in the port of Lisbon as it plays in the Canary Islands in winter. The Marella Discovery has it scheduled too. To see a full list of the Marella Discovery's future cruises the image box, or to join the Ventura Chat site click the image.
Please watch + share David's fabulous film on the Palace.
Cruise Doris Visits Subscribe. Thank you
Aurora Ship Tour Azura Ship Tour Britannia Ship Tour Arcadia Ship TourTAKING DRINKS ON BOARD ? CAN I ? HOW MUCH ?