If you have been to any city on a river, you must have seen river ships. In some cities, it gets so busy with river ships it must be hard to book space, certainly premium dock areas. Living in Budapest while working for HBO I watched with envy as the ships came and went every day. I still have yet to go on one, and it is a bucket list dream, but my agent fills my diary with ocean cruises and the opportunity keeps escaping me.
CHAT RIVER CRUISING HERE – FRIENDLY FACEBOOK GROUP
For the UK traveller, they may be familiar with SAGA or Fred. Olsen, both of which are venturing into the river cruise market. But the kings are without doubt Viking followed by Amadeus. Other brands
ALL AMADEUS SHIPS ALL VIKING SHIPS SAGA RIVER ALL SCENIC SHIPS TUI RIVER CRUISES ALL EMERALD SHIPS
Viking Cruises like to ensure their customers feel at home, so all their ships feel familiar. They now have nine ocean ships and they are almost identical. Below is an example of their River ship. Their river ships are all listed here.
95 comfortable outside staterooms (25 Standard Staterooms, 22 French Balcony Staterooms, 39 Veranda Staterooms, 7 Veranda Suites, 2 Explorer Suites)
All suites feature two full-size rooms with a veranda off the living room & a French balcony in the bedroom
Sun Deck with 360-degree views & shaded sitting area; organic herb garden & solar panels; putting green & walking track
Aquavit Terrace & Lounge, a revolutionary indoor/outdoor viewing area at the bow of the ship for al fresco dining
Viking Lounge & Bar with floor-to-ceiling glass doors
Restaurant with floor-to-ceiling windows for panoramic views
Library & onboard shop
Elevator from Middle to Upper Deck only; no elevator access for categories E & F
Free Wi-Fi (connection speed may vary)
Laundry service
Ecologically friendly hybrid engines producing less vibrations for a smoother ride
40″ flat-screen TV with infotainment system featuring Movies On Demand, plus CNBC, CNN, National Geographic & more
CHAT RIVER CRUISING HERE – FRIENDLY FACEBOOK GROUP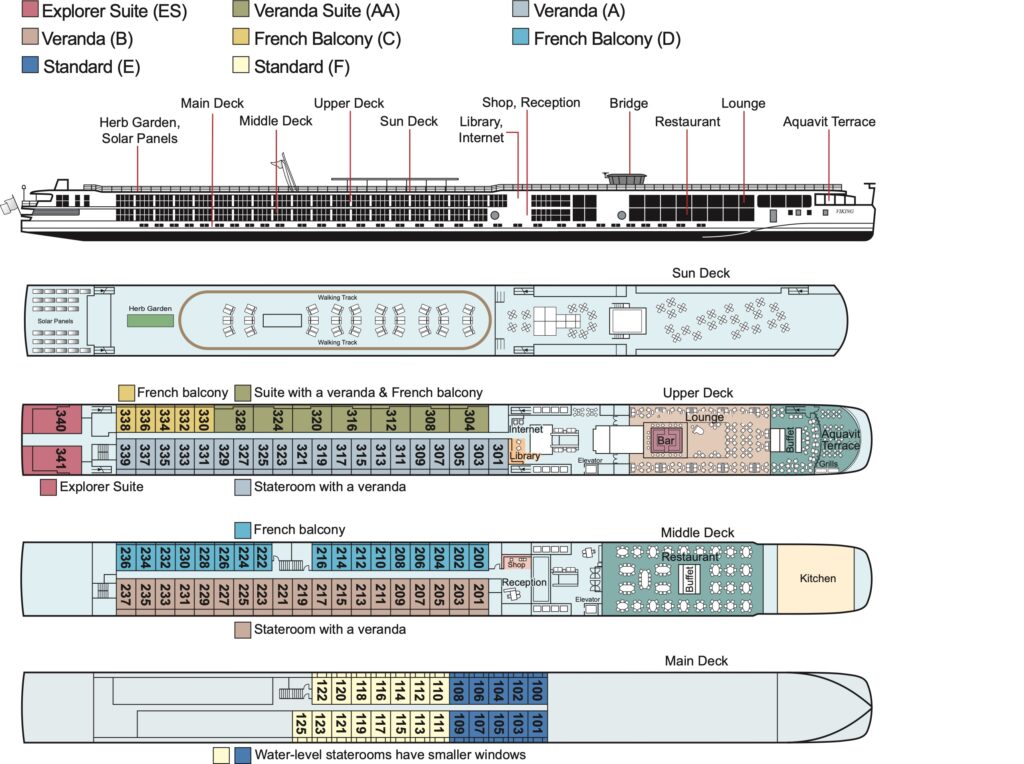 It is hard whatever type of cruise you look at, to ask where it stops and starts. So, on river cruising, we cannot exclude mentioning that Norwegian water specialists Hurtigruten go to places in the north that few others do. We also have to add that even large ocean ships find their way into the fjords. So, we are not neglecting any ship from our mention of river cruises because the Amazon is a river and on the Mississippi, we get into paddle steamers. I guess this page is to celebrate the Danube, the Rhine, the Seine, the Nile and many of the world's other great rivers that historic cities were built on. It is just to say that Doris Visits is beginning to learn, with your help and we are a community, about river cruising. Here we start to feature here the river ships.

AMADEUS Amadeus Princess Amadeus(Cara) Amadeus Imperial Amadeus Star Amadeus Queen Amadeus Provence Amadeus Silver Amadeus Silver II Amadeus Silver III Amadeus Brilliant Amadeus Elegant Amadeus Diamond Amadeus Royal Amadeus Symphony Amadeus Classic
CRYSTAL RIVER Crystal Bach Crystal Debussy Crystal Mahler Crystal Mozart Crystal Ravel
EMERALD RIVER Emerald Sky Emerald Star Emerald Sun Emerald Dawn Emerald Luna Emerald Radiance Emerald Liberte Emerald Destiny Emerald Harmony
SAGA RIVER SHIPS Spirit of the Danube Spirit of the Rhine Douro Spirit
SCENIC CRUISES Scenic Jasper Scenic Opal Scenic Azure Scenic Crystal Scenic Jewel Scenic Jade Scenic Diamond Scenic Sapphire Scenic Gem Scenic Ruby Scenic Pearl Scenic Aura Scenic Spirit Scenic Tsar
TUI RIVER CRUISES TUI ISLA TUI MAYA TUI SKYLA
VIKING RIVER SHIPS Viking Aegir Viking Alruna Viking Alsvin Viking Atla Viking Baldur Viking Bragi Viking Buri Viking Delling Viking Egdir Viking Egil Viking Einar Viking Eir Viking Embla Viking Forseti Viking Gefjon Viking Gersemi Viking Gullveig Viking Gymir Viking Heimdal Viking Herja Viking Hermod Viking Hervor Viking Hild Viking Hlin Viking Idi Viking Idun Viking Ingvi Viking Jarl Viking Kadlin Viking Kara Viking Kvasir Viking Lif Viking Lofn Viking Magni Viking Mani Viking Mimir Viking Modi Viking Rinda Viking Rolf Viking Sigrun Viking Sigyn Viking Skadi Viking Skirnir Viking Tialfi Viking Tir Viking Tor Viking Ullur Viking Vali Viking Var Viking Ve Viking Vidar Viking Vilhjalm Viking Vili
Our page on cruise insurance & antigen testing: click> INSURANCE & TESTING

CHAT GROUPS – a fantastic way to help others and a place to find answers. We run Facebook Groups for cruisers – see the list in black boxes after the ships and fleets listed above. CHAT RIVER CRUISING HERE – FRIENDLY FACEBOOK GROUP