Excited? Buckle up and ride because if you are an IONA fan and are waiting for the ARVIA wondering just how the Excellence Class can evolve, here is a hint.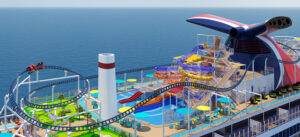 The Mardi Gras is the latest Excellence Class Carnival Cruises ship to hit the seas and it has this rollercoaster on it. Watch the motorcycle-style speed machine take you virtually around the open-air course high above sea level.
This all-electric thrill ride puts you in the driver's seat. That means you actually get to control how fast or slow you go, so hit the gas and try for the fastest time, or take it easy with amazing 360° ocean views!
Our page on cruise insurance & antigen testing: click> INSURANCE & TESTING
See my cruise and port accurate mystery thrillers in paperback and eBook Some in large print & as audiobooks. They are all set on a cruise and written like movies or TV series. Well, that is where I spent the last 50 years! The income is reinvested into this cruise site.
CHAT GROUPS – a fantastic way to help others and a place to find answers. We run a Facebook Group for each of the ships. P&O IONA group