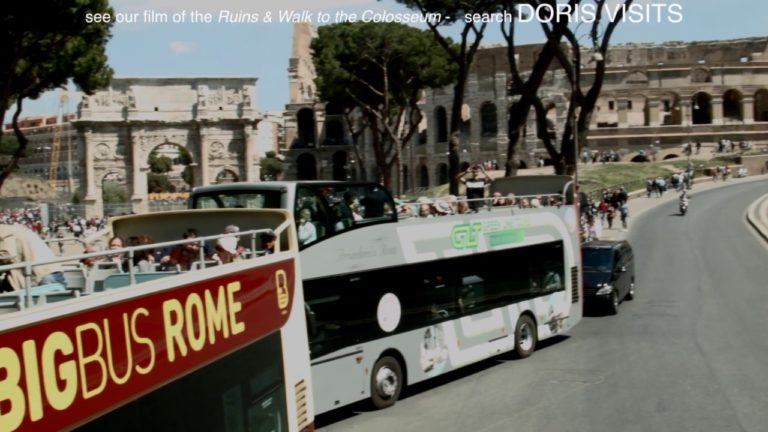 When you know Rome really well it is fair to say it is an easy city to walk around, and it's not huge. You could almost do it in a suit of armour! But if you do not know it, or are not to good at walking a lot in crowds on sometimes uneven ground, then the bus tour is an excellent choice. Take a look at our film on bus tours. I had a number of people asking me about the direct transfer at Rome for the hop on hop off bus, here that is too.
Cruise Doris Visits Subscribe. Thank you
Sitting on the top of a bus in the sun, with that elevated view of so much with a full explanation was how we learned about Rome. Start early and take the complete circuit and listen. Then use the bus to jump between places. If you have time, in the afternoon take one of the free walking tours, but as a cruiser, you will run out of that currency time. Jean's film of the bus route and stops shows you just how much there is to see. If you like these bus tour films and you are also planning a trip to New York, we have the same bus tour film coverage there. NEW YORK BIG BUS TOUR – RED NEW YORK BIG BUS TOUR – BLUE NEW YORK BIG BUS TOUR – PURPLE Click here for discount tickets before you go. Big Bus Tours Rome
Join the Britannia Cruise Chat – click the picture

The Piazza Navona & Pantheon is a beautiful square covered in another blog page.

The Trevi Fountain and Spanish steps are also big tourist attractions, and we have a huge tip here, see our other blog.
A brief orientation of Rome so the City won't come as a big surprise ends with a suggestion. There is another way to see Rome. How about re-living the clues in the movie Angels and Demons.
Rome City Walking Guide – St Peters Square. Click for blog
GUIDES AND TOURS MADE EASY FOR YOU
ATHENS METRO ATHENS ICE CREAM ATHENS GUIDE ATHENS HORSE+CARRIAGE ATHENS PLAKA CRETE GUIDE THE VERY SPECIAL RHODES ROME DUBROVNIK ZADAR VENICE NIGHT SAIL AWAYBOOK A SHIP ARRANGED TOUR HERE – GO TO YOUR PERSONAL P&O CRUISE PLANNER HERE
Choose from these many tours in Rome and book direct CLICK HERE

While on YouTube please also subscribe to Doris Visits.
Essentials reading of a cruise. You will cruise with the storey.
The Port guides are made by us, here on Doris Visits. They are a great way to research a port before booking or going, for tips and to save money. They are also a way of sharing with others where you have been. The crime novels are a whole new experience of a port. You may not have been to the ports in the novels, you certainly won't have been to the parts of the ship they use. All the cruise crime novels will make you feel like you are in the adventure and on that cruise.
This is what we do……
Cruise Doris Visits Subscribe. Thank you
Enjoy your cruise