We are losing another small ship and there are just a few cruises left on which to sail on her. The SAGA PEARL 2 is sailing its way around the world for the last time, an amazing African coast farewell cruise. Now it is hello to the new ships. It is as rumour has it, still up for sale and the asking price is around $7.5m.
SAGA SHIPS – ADULT ONLY – OVER 50's JOIN THE CHAT HERE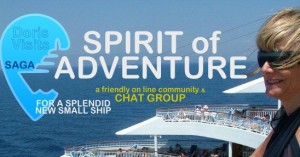 This is the site dedicated to the new ship at sea, the Spirit of Adventure. As or members sail on it, they will be able to answer questions. Click HERE to join the community. Our guests have a wealth of knowledge.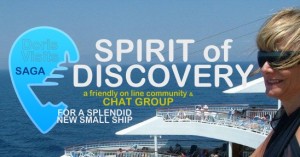 We look forward to the Spirit of Discovery due to sail in 2020 which is so close. Click HERE or click the picture to join.
Our chat guests are a great bunch of people.
It is worth noting that we often send cruisers to the SAGA site because it is an easy place to find the other cruise lines adult only

cruises

because they sell those through SAGA. So a Princes, Regent Seven Seas, or Celebrity Adult only cruise can be found easier their than looking though the different site. Other Adult only ships include

Marella Explorer 2

, and

P&O Arcadia

.

SOUTRH AFRICAN FAREWELL ADVENTURE 16th Feb 2019 54 nights The ships final cruise. From Portsmouth out to Madeira, past the Canary Islands and out to spend a glorious cruise stopping in Gambia then around South Africa and back via Dakar, to Las Palmas and Ferrol. An amazing farewell.
Day 1 Depart Portsmouth
Day 2,3,4 At sea
Day 5 Funchal, Madeira. J
Day 6 Santa Cruz, Tenerife.
Day 7, 8 At sea
Day 9 Porto Grande, Sao Vicente.
Day 10 At sea
Day 11 Banjul, the Gambia.
Day 12, 13 At sea
Day 14 At sea, crossing the Equator.
Day 15, 16, 17 At sea
Day 18 Luanda, Angola.
Day 19, 20, 21, 22 At sea
Day 23, 24 Cape Town, South Africa.
Day 25 At sea
Day 26 Port Elizabeth, South Africa.
Day 27, East London, South Africa.
Day 28 At sea
Day 29 Maputo, Mozambique.
Day 30 Richards Bay, South Africa.
Day 31 Durban, South Africa.
Day 32 At sea
Day 33 At sea, cruising the Cape of Good Hope
Day 34 At sea
Day 35 Luderitz, Namibia.
Day 36 Walvis Bay, Namibia.
Day 37, 38, 39 At sea
Day 40 Jamestown, St Helena.
Day 41, 42 At sea
Day 43, At sea, crossing the Equator
Day 44, 45 At sea
Day 46 Dakar, Senegal.
Day 47, 48 At sea
Day 49 Las Palmas, Gran Canaria.
Day 50, 51 At sea
Day 52 Ferrol, Spain.
Day 53 At sea
Day 54 Portsmouth.
Find your ship's chat site + share your pictures + experiences to help others