We know many of you love the libraries, and these sadly are vanishing from some ships. Here on the SAGA PEARL 2 they have a great library and lounge. Take a look at this short film, it will also help you see the ship. See the new ship and the SAGA sister ship in the Cruise Ships area of Doris Visits.
Our good friend Marty Kristain of The New Seekers fame is often on board as a celebrity guest and he loves the ship. Say hi to him for us. Click here to go to the site for the full description, prices and availability. Also take a look at the tour of the ship and the dining film. We list them all on our site.
Cruise Doris Visits Subscribe. Thank you
Look and book. Look at the ship on the SAGA web site and check availabilitySAGA Spirit of Discovery to have first Jools Holland night club at sea THE CLUB BY JOOLSSAGA SHIPS – ADULT ONY –
SAGA SHIPS – ADULT ONY – OVER 50's JOIN THE CHAT HERE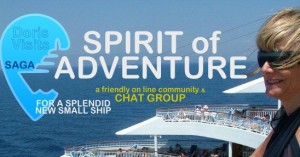 This is the site dedicated to the new ship at sea, the Spirit of Adventure. As or members sail on it, they will be able to answer questions. Click HERE to join the community. Our guests have a wealth of knowledge.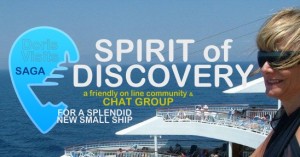 We look forward to the Spirit of Discovery due to sail in 2020 which is so close. Click HERE or click the picture to join.
Our chat guests are a great bunch of people.
BOOKS SET IN PISA Dancing to the End of Love is set in Pisa; When internationally successful singer Siobhan McGovern turns up at the launch of Robert Lanaghan's latest book in Dublin, it's the start of a stormy, passionate affair. Kindle under £2 Book available.
BOOKS SET IN FLORENCE My Cousin Rachel is set in partly in Florence; see film review from on board ship, this film plays on ship. Kindle under £6 book avalailble.
BOOKS SET IN BARCELONA 'Origin' by Dan Brown has Barcelona as a main location; Langdon finds himself being hunted. He escapes with the museum's director, Ambra Vidal. Together they flee to Barcelona in the search of answers, to where Edmond Kirsch once lived Kindle or Hardcover on Amazon
BOOKS SET IN BARCELONA'The Antiquarian' Novelist Enrique Alonso's world is turned upside down when he receives an intriguing letter from his adoptive father, Artur, a well-known antiquarian in Barcelona. Kindle or Hardcover on Amazon
BOOKS SET IN ST MAARTEN: American Portrait. Violet cruised to find love, but found and as a mature woman was shocked to find interesting employment, but then romance, then the employment goes wrong and ends in St Maarten. You will recognise the ship as well as the location. Kindle and book on Amazon
BOOKS SET IN TAHITI: The Water in Between: A Journey at Sea. Following a brief romance and a period of self pity, Kevin Patterson decided to have an adventure and sail in a boat to Tahiti from Canada. Quite a distance for someone who had never been in a boat. On Amazon
BOOKS SET IN HO CHI MINH CITY:RU – Ru: In Vietnamese it means lullaby; in French it is a small stream, but also signifies a flow – of tears, blood, money. Kim Thúy's Ru is literature at its most crystalline: the flow of a life on the tides of unrest and on to more peaceful waters. In vignettes of exquisite clarity, sharp observation and sly wit, we are carried along on an unforgettable journey from a palatial residence in Saigon to a crowded and muddy Malaysian refugee camp Buy Ru on Amazon – Click here
OUR SPECIAL MOVIES AT CRUISE LOCATIONS MENU

Was book 1, Her Virgin Voyage written on the Ruby Princess, Ventura or Azura? Set in Madeira, Lanzarote, Tenerife and Lisbon. And was it real inside knowledge to predict that P&O would announce same sex marriages for 2018 which Sally Katz did in book 2, The Perfect storm.
These adventures take place on real cruises, from day 1 embarking to leaving the ship. Book 2 is quite dark and lives are threatened even though it has romance. It sees Violet being offered a job and working as a mature model for the spa and beauty parlour, and starting to get involved with the ships marketing. It covers all the Baltic ports in detail as the story works through them.
Book three sees Violet fly to the Caribbean to start work on a new ship and find she has a new boss. Love, life and work all get terribly mixed up as they sail down the coast of Florida and out to the islands in the Caribbean. All three books are like an Upstairs, Downstairs / Downtown Abbey look at cruise ships.
MARRIAGE AT SEA MED CRUISE NEW ENGLAND CRUISE CRUISE BOOKS