Saga Sapphire chased by model drone with camera! This is an incredible film of a drone chasing the Sapphire out to sea and flying around it filming.
We have two tour films of the ship, the SAGA one from a few years ago and a recent 2017 filmed tour of the ship. This is a small ship carrying no more than 720 passengers but it looks pretty huge from our eye in the sky. When you have seen how elegant this ship is, take an interior tour.
Cruise Doris Visits Subscribe. Thank you
Check all the details out – click here for the ships page on SAGA.
SAGA SHIPS – ADULT ONY – OVER 50's JOIN THE CHAT HERE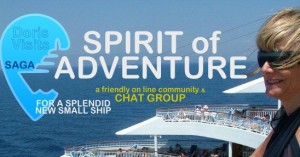 This is the site dedicated to the new ship at sea, the Spirit of Adventure. As or members sail on it, they will be able to answer questions. Click HERE to join the community. Our guests have a wealth of knowledge.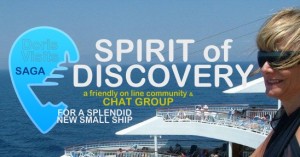 We look forward to the Spirit of Discovery due to sail in 2020 which is so close. Click HERE or click the picture to join.
Our chat guests are a great bunch of people.