The new wonderful SAGA ship has dreamy wonderful suites.You have to take a new look at SAGA because the future is completely different. They have taken eight names from the British Isles Shipping Forecast areas. Bailey, Fair Isle, FitzRoy, Hebrides, Humber, Lundy, Thames and Trafalgar. Saga's chief operating officer Nigel Blanks said 'naming the suites with an original, British maritime theme was one goal but we also wanted to recognise our heritage and the important names in Saga Cruises' own history'. He said: "The Shipping Forecast's areas are heard four times a day on the radio – but on Spirit of Discovery they will be ever-present!
Plus four of the top suites are named after inspiring names in Saga's history.
The Sidney de Haan Suite. Salutes the founder Sidney de Haan OBE. Mr de Hann (1919-2002) built the company from a small hotel in Folkestone in 1951 to become the best-known UK company for the over-50s.
The Joseph Meyer Suite salutes the new relationship we have developed with the Meyer Werft shipyard, in Papenburg, where Spirit of Discovery is being built. We are working with Bernard Meyer, who is the seventh generation owner at the family-run shipyard which started in 1873 when Joseph Meyer built the company's first iron ship."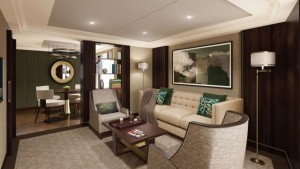 The Rose Suite and The Ruby Suite have been named in honour of their first two ships which though part of a bygone era are still fondly remembered by SAGA guests. Saga Rose was the first cruise ship owned by Saga. Built in 1965, her name was then synonymous with luxury but to give guests the luxury they now expect SAGA have moved on to two wonderful ships and there is a rumour of a third already. Saga Ruby was built in the 1970s and joined her sister ship Saga Rose in 2005 to become the second ship in Saga's fleet. A firm favourite with cruise guests, she sailed with the company until 2014. A much-loved tradition was for Saga Ruby and Saga Rose to set off together on their Round-the-World cruises, an occasion always marked with a spectacular fireworks display.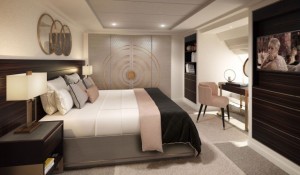 Blanks added: "Our suites will enjoy butler service and will be among the finest afloat – each with its own character and personality, sumptuous furnishings, fabrics and fittings as well as bespoke artwork. At 730sq ft The Sidney de Haan Suite and The Joseph Meyer Suite feature separate living rooms plus bathrooms to impress with twin sinks, a shower and a separate bathtub."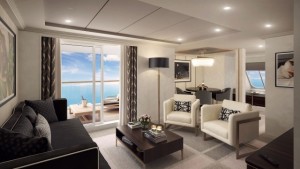 For those of you who worry about your cabin, maybe this is the standard to judge them against. Saga's first purpose-built cruise ship Spirit of Discovery is one of two new passenger ships being constructed at Meyer Werft shipyard in Papenberg, Germany.
SAGA SHIPS – ADULT ONLY – OVER 50's JOIN THE CHAT HERE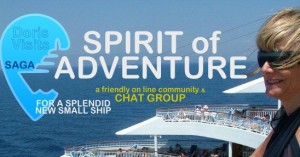 This is the site dedicated to the new ship at sea, the Spirit of Adventure. As or members sail on it, they will be able to answer questions. Click HERE to join the community. Our guests have a wealth of knowledge.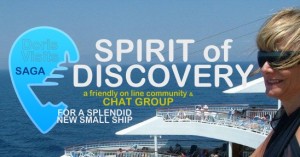 We look forward to the Spirit of Discovery due to sail in 2020 which is so close. Click HERE or click the picture to join.
Our chat guests are a great bunch of people.
SEE SAGA OCEAN SITE Saga Holidays" href="http://<a href="http://tidd.ly/e7573c5c" target="_new">Saga Holidays</a>" data-wplink-url-error="true">Saga Holidays
Spirit of Discovery will be named in Dover on July 5, 2019 while the second ship, Spirit of Adventure, is planned to enter service in 2020. Both ships will host 999 guests and 530 crew members. Spirit of Discovery will be a 58,250 gross tons vessel measuring 774.3ft in length and a maximum beam of 102.4ft. SAGA new ships in BALTIC
Spirit of Discovery's Forward suites:
Spirit of Discovery's Aft Suites:
The Bailey Suite
The Fair Isle Suite
The FitzRoy Suite
The Hebrides Suite
The Humber Suite
The Lundy Suite
The Thames Suite
The Trafalgar Suite