It's instinctive to want to peep over the fence into the next door's ship. Our interest here is natural, because Richard Branson had the notion to rock the boat, but has he tipped the boat over? …to use a seventies disco pun on a voyage of love we long ago begun.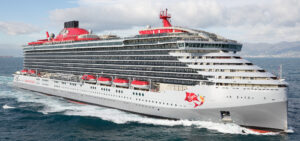 The man whom the ever-respectful British press tried to make a nation resent, has been different yet again and tried to make the Virgin Voyages ship(s) totally different. Has he? From critics not being sure at first look, they have almost all joined his vinyl party. They suggested he was aiming the ship at the younger, but was he? So far, the Scarlet Lady, which Bob has filmed very well for us, has captured a very mixed party crowd with a large contingent of the now-retired disco generation who don't want a library of books when they have an eBook device. Was he right in thinking pools are for laying around and not getting in? Without being vicious as you want a second career in the press, does the ship that says no to sleeping at midnight strike you like a glitzy ten pin bowling alley? Or is it fun? He certainly has rocked the boat. ooh-ooh baby.
Cruise Doris Visits Subscribe. Thank you
Thanks to Bob Visser for filming, and SSP for the edit.
Virgin Voyages own website, with all ship and itinerary details. Click here to go straight there and avoid searching through adverts. Click for Virgin Voyages web
The Port guides here on Doris Visits are a great way to remember your cruise and share with your friends. But you might want to chat.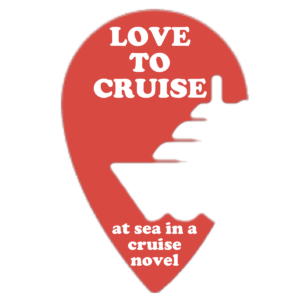 Continue your cruise anywhere – on the train, on the plane. Load your kindle now. Cruise thrillers are a whole new experience. You may not have been to the ports used in the novels, you certainly won't have been to the parts of the ship they employ. All the cruise crime novels will make you feel like you are in the adventure and on the ship – dodge the bullets and stay out of the romance (same thing!). Ship and cruise accurate, the novels are a great way for new cruisers to discover a ship too. Please share the Amazon link with other cruisers.
CRUISE NOVELS
We have a chat site of books about ports and cities ships visit, where guests can share and talk with authors.
CRUISE READING CHAT GROUP
You may have seen the author on a ship giving an after-dinner talk or perhaps in the theatre during the day. His page is
here
.
Stuart St Paul – click here
Essentials – cruise travel labels and our cruise crime novels – oh, and the seasickness bands.
The Port guides here on Doris Visits are a great way to remember your cruise and share with your friends.
Cruise Doris Visits Subscribe. Thank you
Aurora Ship Tour Azura Ship Tour Britannia Ship Tour Arcadia Ship Tour Oceana Ship Tour
CHAT GROUPS
CHAT GROUPS – FAMILY CRUISING
CHAT GROUPS – ADULT ONLY
SAGA Ocean cruise chat group – over 40's if travelling with someone over 50. Both ships SPIRIT of DISCOVER, SPIRIT of ADVENTURE
Azamara chat – Radiance Class ships – Journey, Pursuit, Quest (previously the P&O Adonia) 700 guests
CREW, JOBS and ENTERTAINERS
LECTURERS, DANCE HOSTS & BRIDGE INSTRUCTERS
Please read the GUIDELINES
Please read the GUIDELINES in our CHAT SECTION