Only small cruise ships can get right up to berth at Queen's Wharf opposite the Tower of London. To achieve that, the Iconic Tower Bridge must lift. The cruise ship Silver Wind makes a spectacular sight going through the Neo-gothic Bascule bridge which was built in 1894. About 40,000 people use the bridge a day, but they all must wait if a ship wishes to go through. It is free to lift, but notice must be given.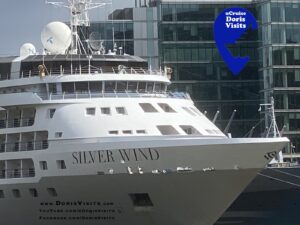 The Silver Wind is a luxury ship, which brings her 274 guests right into the heart of London when on a British Isles tour. In 2018 she had a major upgrade and then a re-fit in 2021 and she now has a reinforced Ice Class hull, just in case the Thames freezes over.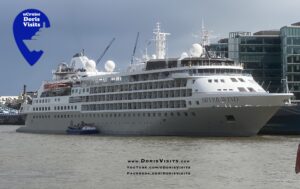 #towerbridgelondon #towerbridge #Silverwind #silversea
Here she is at Tower Bridge where she had two overnights just after the coronation of King Charles III. The bridge sees over 40,000 people use it each day and it lifts when required. The engine room is manned 24/7. The lift takes under 5 minutes. You can easily book online to see the inside of the bridge or just go to the ticket office.
Here is the link to lifting times.
Great to see cruise ships showing London off. See our amazing cruise ships menu. Please share Doris Visits with other cruisers.
It is a sister ship to the Silver Cloud. The Silver Wind was built in 1995.
Guest capacity: 274
Crew capacity: 239
Last refurbishment: 2021
Tonnage: 17 400 Tons
Length 164m
Beam 22m
Ice Class hull
The Video.
0:00 – Silver Wind details
0:26 – Tower Bridge
0:48 – HMS Belfast
1:03 – Bridge lifting
1:20 – Ship near bridge
1:42 – Model for blind
1:52: – HMS Belfast
2:25 – High-Level Walk
2:45 – Ticket Office
3:37 – Tugs attach
3:43 – Bridge lifts
4:07 – Ship pulled to bridge
4:24 – Tug through bridge
4:50 – Ship through bridge
5:05 – Guests on deck
6:00 – Audio book starts
6:40 – Silver dawn reversing upriver