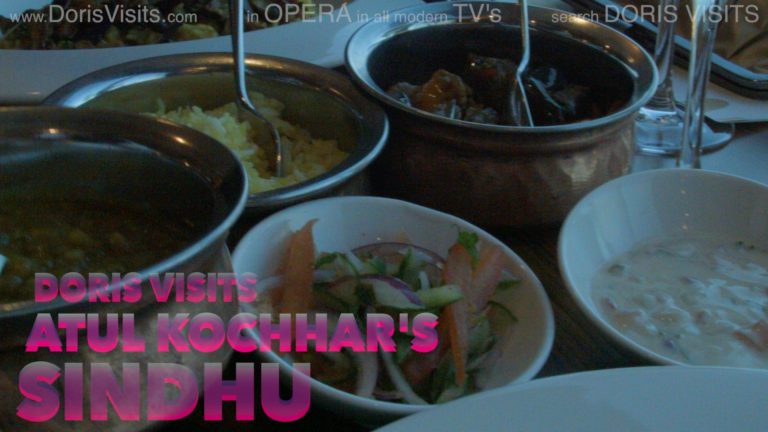 By week 2 of a two-week cruise, when everyone starts to venture out, the premium dining restaurants can get full to capacity. The Sindhu restaurant is a firm favourite with Doris Visits. Arcadia, Britannia, Azura, Aurora and Ventura all have Sindhu and can all be booked here as can your holiday cruise. We take no money, just work with P&O to take you to the right page on their site. The Sindhu on the Arcadia is at the top of the centre lifts opposite the East Bar. This film was made there.
Cruise Doris Visits Subscribe. Thank you
The Sindhu normally rotates two menus. The internet is a wonderful thing! It is best to book and reserve and then cancel if things change.
P&O EARLY DEALS Sindhu Menus differ on ships, they can be found here 1 P&O LATE DEALS
BOOK A TABLE – GO TO YOUR PERSONAL P&O CRUISE PLANNER HERE
As always the food at Sindhu was exceptional, and they also serve Sula wine along with the ships other selection. Sula is an indian wine. Because of the high sunshine in India, the Sula grapes have less tanning. The wine is very light and easy to drink, maybe too easy. Normally the white is a Sauvignon Blanc but as the Vineyard in India expands, and have now added a Riesling, you may have to now select which Sula.
None of the dishes are hot. So if you might like a more spicy meal you will have to discuss this possibility when booking the table. Soft shell crab is quite wonderful, but all the food is good and with the many courses and attention the meal is a dining experience.
Food Heroes On Board Ship – dates
The Sindhu is available on all but one of the P&O ships, even the new jewel in the crown, the Britannia. If you like India food, take a look at our Kerala film where we had two cookery demonstrations by a local chef. If you have never cruised, and we are mainly a cruise site, then click here to see how to look at what cruising is.
Venice evening sail away Zadar Guide Walking the Walls of Dubrovnik Dubrovnik Old Town Game Of Thrones Special Messina Straits sail by Cagliari Guide Gibraltar Glass demonstration