Single, and cruising solo? – Cruising is very solo cruiser friendly and our chat community is also here to help – watching the blogs this week they have been exchanging chat on how it is often cheaper to book a double room and pay the supplement. Small, new and growing this will be a great chat site.
All the cruise lines take great care of all guests and that includes passengers travelling by themselves. However, it can be a minefield typing single into the internet, because so many of the websites do not reach out for 'single' searches. We have done some research and found safe links below for you to follow with Marella, Fred Olsen and SAGA and P&O have lots of FAQ's, (answered questions). In speaking with people who do travel by themselves there are many stories. There is the story of Mama Lee who won't get off a ship, she cruises permanently!
Cruise and Maritime have a limited offer for solo cruisers, by one, get a second free. Even if you miss that take a look at their cruises here.
Whilst the smaller ships can feel less threatening, others say that the larger ships can do so much more, like daily meetings or coffee mornings. These meetings came over as important, also the fact that on the larger ships you don't get stuck with the same people. This research was done in the choir on the Azura. Please share your stories, we have started Cruising Solo – a chat site for solo cruisers, but as with all chat sites we ask you to use it sensibly and respectfully and with caution, it is not a dating site just for those who travel alone. Chat Site GUIDELINES
Fred Olsen's singles page – click hereSAGA single's page and they offer a lot more than cruisesThe Cruising Solo But Never Alone friendly community & chat site to stay in touch and find others on your cruise – click here
FRED OLSEN
Fred Olsen take care to ensure singles continue to have great holidays, they have a section on it. Click here.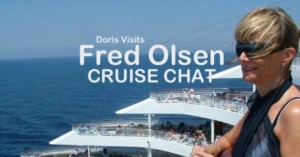 I like the term new found friend because that is what cruising is about whether you are single or in a group. It just seems harder when you are single, until you step on the ship. The first evening, at dinner you will sit with others at a table and instantly make friends. That happens to all cruisers, but if you are single there is just a little help.
Just as the waiters and kitchen will know your dietary requirements if they have been informed, they will know who is cruising alone and there will be opportunities to meet and sit with other cruisers. It is a choice, you are in control, but you may as well sit with someone, there may be other singles amongst them.
The smaller, more intimate ships may be less intimidating, and allow you to mix more easily, but on our last Azura cruise there were more than a few singles and I made some lovely friends in the choir, who were traveling alone. The choir is a great place to meet people. The smaller ship on the P&O fleet is the Adonia and it's sister ships are now both with Azamara Club Cruises. See our section small ships under Cruise ships.
There are some meet-ups for singles arranged in the daily programme, and whilst that might seem a stretch, it will soon feel like a mustn't-miss. In the evenings, when the dancing starts, Fred Olsen still have dance hosts. There are normally four on most ships and they are there to dance and will. If asked you can say no, but you are just naturally included.
So, Fred's fleet of smaller-sized, more intimate ships might be the perfect choice for single travelers where the warm, sociable atmosphere will just mean you are on holiday like the others who may have partners. You will find new friends in like-minded travelers for a truly memorable and enjoyable experience whether you stay in touch afterwards or not. Fred Olsen also understands that it's often difficult to find a holiday for one without huge single supplements and charges. They offer some fantastic 'no single supplement' deals on a wide selection of stunning cruise holidays and room grades in 2017 & 2018 offering solo travellers the chance to visit breathtaking destinations in Norway, the Mediterranean, the Canaries, the UK and many more in the space and comfort of a twin room at no extra cost.
I have been looking at the cruises they list when talking about Singles Cruises and Christmas and New Year both seem to feature.
Fred Olsen's blog on Single Cruisers. http://www.fredolsencruises.com/cruise-offers/singles-cruises
SAGA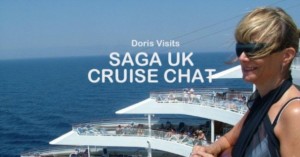 SAGA has a wide section of Singles Holidays. Look at the holiday choices on their page mid page menu and click either the last option far right which is Singles Holidays (Click here and we have done it for you if the old search link still works) Or you can click Special Interests, then the sub-menu Solo Traveller. The results seem to be the same. They then offer Hotels and land-based holidays as well as cruises. The Queens Hotel in Dorset is one of a few that is exclusively for solo travelers. There is a long list of Hotels that seems to come first, that may make you think you will never find a cruise there. To be honest, almost every cruise will have singles on, but SAGA does feature some cruises. It is not that they are just for singles. If you go in via the Singles banner, the prices they show are automatically for a Solo Traveller. The Islands Of the Aegean is one they currently feature. Use this link or if it fails, on the menu look far right for Singles/ single Holidays.
The Cruising Solo But Never Alone friendly community & chat site to stay in touch and find others on your cruise – click here
MARELLA CRUISES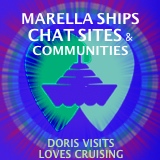 Marella Cruises have a Social Host or Hostess who arranges get-togethers for solo travelers, like dinners and coffee mornings. If you're worried about dining alone, have a chat with the ship's maître d', who'll make sure you're seated with other guests at dinner.
P&O Cruises
P&O welcome many single cruisers, I have met them in the choir, then seen them walking around the towns together exploring. They have no Singles section, but in the Q&A on their website they do answer some questions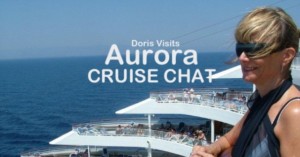 There are coffee mornings for passengers traveling by themselves these are often advertised but not always hosted. These coffee mornings are not available on 2 or 3-night cruises. Please see " What activities are available on board? " for further details of activities available on board for all passengers. All their ships have single cabins. You can share with a friend, but they do not allow you to share with someone you do not know. If you have not cruised before you might like to see our tours of the Arcadia and Azura.
Single Inside Cabins are graded as SC grade (Arcadia, Azura & Ventura), SF (Britannia), SE (Oriana)
Single Outside Cabins are graded as RE grade (Aurora), RC grade (Azura & Ventura)
Single Balcony Cabins are graded as QF grade (Arcadia and Britannia)
Click here for the P&O site and explore.
If you are packing by yourself, and have no one to run a checklist with, then you might just like to check my Doris Visits checklist, which I will always add to if you remind me that I have forgotten something. Add your tip in the Comments.
….Oh, the feature picture, it is Cocoa Beach on the Port Stop Canaveral in Florida. Which we sold to the publishers of Solo Cruiser. We like holidays that do stuff and go places where you meet and interact with people. Golf and skiing both fall into that group which is why you find them here, though not as featured as cruising. Bridge and dancing you need a partner, but many things are solo. Is it too late to try golf? Doris started as she was approaching the 6-0.
Azamara has bought the Adonia and now have three sister ships in their fleet. Cruise & Maritime Voyages' will have a new addition to their fleet, but it is not a new ship. The Columbus will be thirteen years old this year but it has just had an extensive refit. The importance to single travelers is that there are now 150 new single cabins, which reduces the ship's previous capacity from 1,800 to an expected 1,400 passengers.
The Cruising Solo But Never Alone friendly community & chat site to stay in touch and find others on your cruise – click here
CRUISE INSURANCE BELOW – OR OUR BLOG

Disaster in the Baltic! The book series has been in the charts for months. Book 2 all happens on a Baltic Cruise! Adult action romance on a cruise.
Follow author Sally Katz by clicking her name and then on the author page on Amazon, click follow. Then as she releases a new book your are informed.
The Cruising Solo But Never Alone friendly community & chat site to stay in touch and find others on your cruise – click here