OK, so Christmas tradition is a sleigh ride, reindeer, Father Christmas in a red hat, and curved wrought iron hand rails on the sleigh. But in Madeira it is all year round, except they are dressed in white like Gondoliers in white suits and straw hats. Not many cruisers will hit the snow, but they will get the traditional toboggan ride. If it is Christmas take your own Santa hat. The toboggan ride is great fun and one of the things Funchal is famous for. We thought we would show you the run in full although it is shown briefly in the main film. If you want to know what the toboggan run is like the full four minutes is covered.
P&O LATE DEALS CANARY ISLAND CRUISE
Cruise Doris Visits Subscribe. Thank you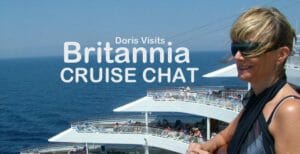 The cable car will take you up, a long walk down or a bus or a taxi will probably want to take you back up. If they do you can see the Monte Palace Tropical Gardens if you missed them. The sled was probably just invented as a quick way down, maybe to carry produce to the markets below. We love Madeira, we love the Canary Islands Cruise. It feels so easy. The Canary Island Cruise is one of the most popular on the Britannia click the picture to chat on Britannia.
MADEIRA TOURS – PRIVATE – P&O – MARELLA – all here
If you are new to Doris Visits Cruise TV then welcome, follow us on Facebook and subscribe to our cruise guide YouTube Channel to get the best from us. PLEASE SHARE
SEE THE CRUISE BEFORE YOU CRUISE THE SEA. We show cruise destinations all over the world. Please follow us on Facebook and Twitter and share.