Doris Visits has about 50 chat sites, Scroll down to find your favourite ship or cruise line'Click' the box or picture you want to join. We add more ships as the the suggestions are made by you. Why join a chat site? To share your information base with others.
CELESTYAL no chat site yet
Crystal no chat site yet
DISNEY no chat site yet
G. Adventures no chat site yet
HAPAG LLOYD no chat site yet
Mano Maritime no chat site yet
P & O Australia no chat site yet
Paul Gauguin no chat site yet
Phoenix Reisen no chat site yet
SEADREAM no chat site yet
Star Clippers no chat site yet
TUI no chat site yet
Voyages To Antiquity no chat site yet
Windstar no chat site yet
Some cruise lines we operate more than one chat group, because the ships are different and people have their favourites. For example, Viking Ocean all the ships are the same so there is one Viking chat site. P&O the ships are wildly different, so there is a group for each ship. The menu site should be able to help you trade a favourite ship, for example, if you were a fan of the ADONIA, which is a Renaissance Class ship, the find magnifier should help you find all the Renaissance class ships. Or if you knew it became the Azamara Journey, that ship menu should also tell you that the sister ships are with Oceania and Princess. We will also make a remark on the chat site or others will answer those questions. In the case of Marella, we will soon be focussing on two distinct classes of ships as the others leaves, so there will be just two chat groups.
MARELLA CHAT – JOIN THE CHAT FOR YOU FAVOURITE SHIP
Our Chat Site GUIDELINES We have one main group for the Discovery and Discovery 2 as they are the same ships. However, there are two groups for the Explorer and Explorer 2, because although they are the same ship, one is to be ADULTS ONLY.
P&O CHAT – JOIN THE CHAT FOR YOU FAVOURITE SHIP
Small ships? Cruising Alone? Mobility Issues needing answers – share here.
If you like ADULT ONLY ships, we advise you to join SAGA CRUISES chat site, because they sell and feature many Adult cruises of other cruise operators. So, if a certain ship is a family ship all year, but then does a few Adult cruises, SAGA may be the place to find out.
SAGA SHIPS – ADULT ONLY – OVER 50's JOIN THE CHAT HERE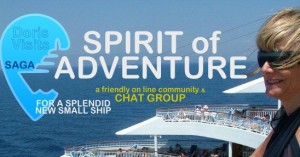 This is the site dedicated to the new ship at sea, the Spirit of Adventure. As or members sail on it, they will be able to answer questions. Click HERE to join the community. Our guests have a wealth of knowledge.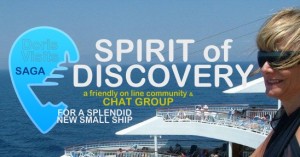 We look forward to the Spirit of Discovery due to sail in 2020 which is so close. Click HERE or click the picture to join.
Our chat guests are a great bunch of people.
Other Adult Only Ships