Christmas Market trail could start at southbank, walk along to the Tate Modern, then up to Borough market of vice vera or cross the river and go to Covent Garden. If you book the Big Bus with us before 31st Dec 2017 Doris Visits has a code that works with our link, that gives you 12% off. BIGBUSTOURS12
SOUTHBANK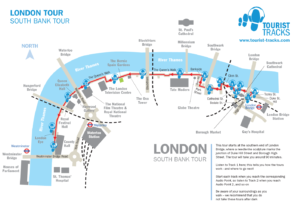 The Southbank for many years has had a Christmas market under Hungerford Bridge. It has stretched from the foot of the London Eye along to the National. A children's small train ride has in the past been erected as a short length of track along this stretch of the Thames embankment by the Royal Festival Hall. 2016 Southbank appears smaller, no train, and the other traders like book stalls were not there (yet). I am hoping it increases its current size but what seems apparent is that it has split into two (see story below).
The Southbank sits below the London Eye and has a major fairground attraction in the field next to its food hall section so it remains significant. The food area is still as large and there are bars as well. The Tate had a market last year but that looks off this year. Hyde Park has a market and not forgetting our favourite Borough Market.
Cruise Doris Visits Subscribe. Thank you
Oslo Christmas MarketAmsterdam Xmas Evening Boat tripCopenhagen Christmas Market Hamburg Christmas MarketBath Christmas Market London, Southbank Christmas Market PORT GUIDES – SEE OUR LIST OF EVERY PORT IN THE WORLD and be INSPIRED – PORT & DESTINATION GUIDES MENU AT DORIS VISITS – click SHIPS & CHAT – Research other ships – passenger area tours, info & chat sites – Our Ships menu has every ship from every fleet – Find your ship's chat site + share your pictures + experiences to help others – click
If you are stuck for unusual Christmas Presents we have found a few odd ideas as inspired by our stop in Richmond before visiting Kew. From chocolate brussel sprouts to a bicycle pizza cutter! We found them cheaper on Amazon for you.
MOVIES MADE AT CRUISE DESTINATIONS ROMANTIC CRUISE BOOKS
Should you wish to add this film to your web site for christmas, please do. What are your five favourite Christmas decorations this year? Here are ours.