These 999 passenger ships have proved so popular orders are with dockyards to build more. On 5 July 2019 at the historic Port of Dover, HRH The Duchess of Cornwall will name Saga's new cruise ship and their are rumours of a third. The naming ceremony will take place in Dover, Kent, on 5 July 2019. She will be the first cruise ship to be named at the Port of Dover for over a decade and the first to be docked at Dover Western Docks following the £250m redevelopment of the area. The £346 million pound ship also has 1,000 pieces of art, including 400 original works from established British artists such as Helen Amy Murray, Evelyn Binns and David Harber.
Viking has six of this size ship, with rumours of ten more ordered. These new small state of the art ships are a big hit. SAGA has entered a new era.
Discovery's steel cutting took place at the Meyer Werft shipyard in Papenburg, Germany, to mark the start of construction of the 999-guest vessel. Spirit of Adventure is due to start sailing from Dover in August 2020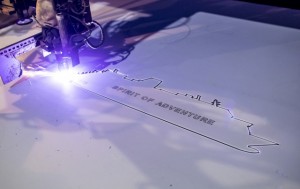 Chief Operating Officer for Saga Cruises, Nigel Blanks said: "Today marks a special moment in Saga Cruises' history – the first steel cutting of Saga's second purpose-built cruise ship, Spirit of Adventure".
"Built by the same expert team at the Meyer Werft shipyard, she is a beautiful sister ship to Spirit of Discovery. With her striking design, distinctive new venues and innovative speciality restaurants, Spirit of Adventure will certainly have a unique personality and will fulfil our promise of boutique luxury, perfectly! "
Spirit of Adventure's bold and contemporary look is being masterminded by top British design agency AD Associates, whose talented collective boast an impeccable travel and hospitality portfolio.
Spirit of Adventure will be a 58,250 gross tons vessel measuring 774.3ft in length and a beam of 102.4ft. She will sail from Dover in August 2020 with itineraries featuring the Norwegian Fjords, the Caribbean and the Mediterranean. Spirit of Adventure will carry 999 guests and 505 crew members, ensuring the high levels of service that Saga Cruises are renowned for are maintained.
Spirit of Adventure sailing summer 2020 will be a sister ship to currently being built Spirit of Discovery. It will be similar in external design, carrying less than 1,000 passengers, balconies for all cabins and retaining the intimacy and personal touches Saga are renowned for. Cruises are already on sale. It will also have a speakeasy club, under the style of Jools Holland. SAGA's approach to free Wi-Fi and optional travel insurance is winning through with their ability to make you feel like you are an individual and have the work force happy so the whole environment is a wonderful experience.
That adds to a UK travel package (including a chauffeur service or car parking at the port) to and from departure point , all meals and entertainment, afternoon tea, 24-hour room service, welcome cocktail party, unlimited tea and coffee in selected venues, all on-board gratuities, porterage, shuttle bus to nearest town centre (whenever possible and when the ship is berthed more than 500 yards away), plus that optional travel insurance and additional cancellation rights, or a discount if passenger has own insurance.SAGA Spirit of Discovery to have first Jools Holland night club at sea THE CLUB BY JOOLS
Spirit of Adventure is expected to be delivered in Summer 2020, joining the Spirit of Discovery which sails in July 2019. Both ships will be built in Papenburg, Germany by the renowned Meyer Werft shipyard, now in its seventh generation of family ownership.Look and book. Look at the ship on the SAGA web site and check availability
Spirit of Adventure will be a sister ship to Spirit of Discovery and similar in external design, carrying less than 1,000 passengers, balconies for all cabins and retaining the intimacy and personal touches Saga are renowned for. The 58,250 GT vessel will be approx. 236 metres long, 31.2 metres wide with a planned completion date of Summer 2020.
ATHENS METRO ATHENS ICE CREAM ATHENS GUIDE ATHENS HORSE+CARRIAGE ATHENS PLAKA CRETE GUIDE THE VERY SPECIAL RHODES ROME DUBROVNIK ZADAR VENICE NIGHT SAIL AWAY
Lance Batchelor, chief executive officer, Saga plc who announced the decision at the company's interim results today said:
"Our first new ship, Spirit of Discovery, will be in service in June 2019 and with pre-sales being very strong, this confidence in demand has supported our decision to expand the new build fleet and purchase our second new ship, to be delivered in August 2020."
SAGA SHIPS – ADULT ONLY – OVER 50's JOIN THE CHAT HERE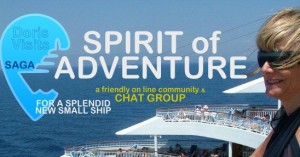 This is the site dedicated to the new ship at sea, the Spirit of Adventure. As or members sail on it, they will be able to answer questions. Click HERE to join the community. Our guests have a wealth of knowledge.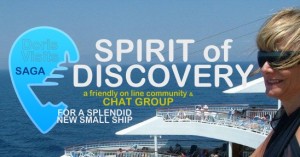 We look forward to the Spirit of Discovery due to sail in 2020 which is so close. Click HERE or click the picture to join.
Our chat guests are a great bunch of people.
Robin Shaw, chief executive, Saga Cruises, said: "Our loyal customers have played a key role in the design process for our first new build ship 'Spirit of Discovery'. To date almost 7,000 passengers, who had pre-registered to sail on her have already gone on to book one of our new itineraries. This is a phenomenal conversion of over 80%. Thanks to this strong demand, the desire of Saga members to keep doing the things they love and the forecast growth in the cruise industry, I am absolutely delighted that we are today confirming that we have now agreed to build a second new ship, 'Spirit of Adventure' for delivery in Summer 2020. This is an incredibly exciting time for Saga cruises and I am immensely proud of my team, both onboard and ashore, and the customers that will continue to help shape the look and feel of our future fleet."
Bernard Meyer, managing partner of Meyer Werft said: "We are very happy and honoured to continue to work with Saga Cruises. Their decision to build now two vessels with us makes us very proud."
Doris Visits are pleased to continue their relationship with SAGA and hop to see you on board one day with one of our presenters walking the decks and giving you the ship tour that covers all the passenger areas. To see news of other new ships, click here.
Saga Cruises – Search, check availability and book – Click here