Which ships still have ballroom and Latin dancing, lessons and dance partners?
Whilst Norwegian can be said to have the least strict dress code, it has great dancing. The Bliss Ultra Lounge, a decadent Vegas-like club may be a little modern but they do get up close and personal. They, Carnival and Royal Caribbean have active clues. The other extreme is Cunard, home of the ballroom. Here the floor is busy with dancers, though when the popular music dance bands appear the floor and the room are jammed back. See our film of the Queen Victoria.
Whilst P&O has the Strictly Come Dancing franchise, Crystal Symphony and Crystal Serenity have the Dancing With The Stars team, and do similar. Fred Olsen and SAGA still have dance partners, or dance hosts but is the Future is coming fast? How long before we have virtual and robot dance instructors? They won't need to take up a cabin….
Cruise Doris Visits Subscribe. Thank you
So you may be expecting me to say 'joke over', but is it? With more and more court case raging about inappropriate touching, can companies afford to risk male or female dance partners on board, let the robots do it, you can't sue them they are not human, they don't have feelings – or do they? That aside, which ships still support traditional dancing, ballroom and latin? Fred Olsen do try to ensure that their single guests are never too long without a dance partner, and usually have four dance hosts available on each ship. Dancing is a priority for them. Things like this help single cruisers find cruising an easy holiday. More single cruiser information, click here.
So dancing continues on the ships, we picked up on this blow from the Azamara – 'Our favorite part of the cruise was the dancing. We had opportunities to dance every evening, which we took full advance of. There were dance instructors on board, Dave and Sunny, and they did a terrific job of teaching ballroom dance. We got quite attached to 2 other couples who enjoyed dancing as much as we did, and we all learned from each other, and practiced together a lot. There was dancing in the upstairs bar in the late afternoon/early evening, and then there would be dancing in the main "show" room with the large band half an hour before the 8 pm evening show, and then again half an hour before the 10:00 show.'
P&O ships normally still have dance instructors on board, and though the dance is often in the atrium there is a reasonable floor there on most ships. Here are the sizes.
Adonia – The Curzon Lounge on Adonia has a dance floor which measures approximately 60 metres squared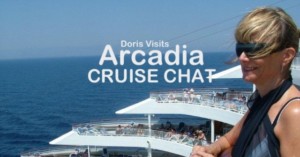 Arcadia – On Arcadia, the Crows Nest has a circular dance floor which measures approximately 136 metres squared
The dance floor in the Globe measures 81 metres squared
Dancing also takes place in an area of The Retreat (size to be confirmed)
Aurora – In Carmen's, the approximate size of the dance floor is 80 metres squared.
Azura – On Azura the Atrium where dancing may take place measures 31 metres squared
In Manhattan the dance floor measures 95 metres squared. In Malabar the dance floor has an area of 76 metres squared
Britannia – The Crystal Rooms dance floor is 4m x 7m
Oceana – The circular Atrium dance floor is around 50 metres squared
Oriana – In Harlequins on Oriana, the area of the dance floor is 109 metres squared
The oval dance floor in the Pacific Lounge has an area of approximately 172 metres squared. The Crows Nests dance floor is circular with an area of around 23 metres squared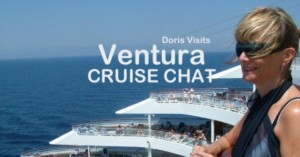 Ventura – On Ventura the Atrium where dancing may take place measures 31 square metres. On Ventura, Havana has a dance floor of approximately 95 square metres
Tamarind has a dance floor measuring approximately 76 square metres.
CHAT GROUP – Cruise the Mediterranean Chat – New Group, be one of the first to join and start a thread on your forthcoming or past cruise by number – – CLICK HERE TO SHARE & CHAT
The Strictly Come Dancing Cruise Dates
Find your ship's CHAT GROUP here – and talk dancing
Violet goes cruising alone, great novel set on a Canary Islands Cruise, easy read, often on the book swap table. It is a bit raunchy, 50 shades of sand, but fantastic descriptions of the ports too. Follow author Sally Katz by clicking her name and then on the author page on Amazon, click follow. Then as she releases a new book your are informed.