One of the many diverse forms of entertainment on a ship is the guest speaker.
Stuart was the most frightening movie character of all time, the Queen Alien in James Cameron's Aliens. Some profile picture, right? He went on to become a 'Best Director' winner himself in the USA and continued to win awards around the globe. He has now jumped ship from screenplays to being a crime writer, writing a series of six cruise mystery thrillers. But it is his endless stories from movie sets that keep audiences gripped.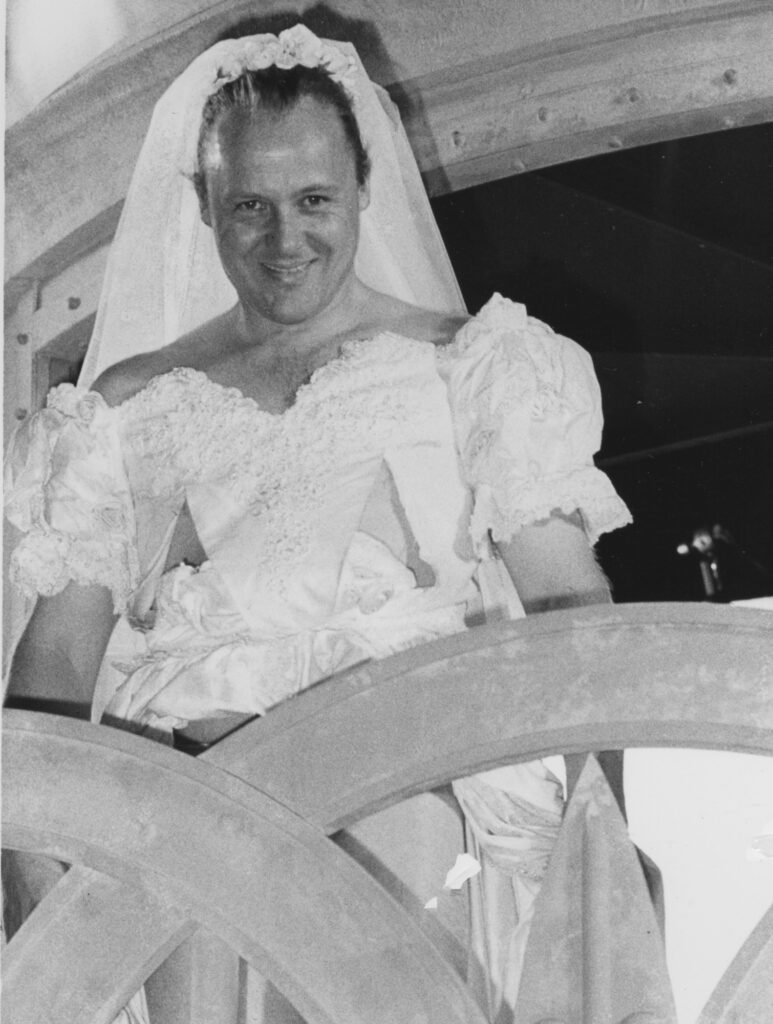 Stuart has appeared as himself on endless TV shows, from Too Much TV, interviewed by Emma Bunting, to the many behind-the-scenes extras for Emmerdale and Coronation Street. Yes, the only other man to have ever been Mrs Brown, and there are stories there too, has worn a dress a few times, including for Disney! Any guess which movie it is from? He sometimes tells the story on stage as he dressed like that to jump off the Statue of Liberty!
You may have watched the odd television show or film, and sometimes wondered how they did something weird or wonderful?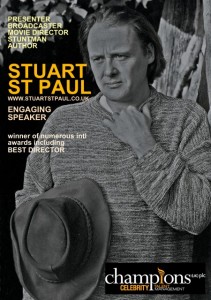 Someone like Stuart St Paul, who has been in the industry for over 50 years, probably did it. His crime mysteries follow cruise routes you will know, on ships you are familiar with, but human trafficking, drug smuggling and murders will not have been a part of any cruise you will have been on. The novels read like movies; fast-paced, can't put them down tales of a cruise you were never on. Ships like to get him on board for the ports he has filmed, which is many from Fiji with rock legends Status Quo, to jumping off the Statue of Liberty. He is an amusing and engaging entertainer.
Search for the great cruise novel Cruise Ship Heist
Fiji in the Pacific is where he directed rock stars Status Quo in the Universal Pictures movie Bula Quo just before Rick died. It is a big story as apart from Rick working in ill-health, a cyclone ripped through the island of Fiji. See the Lautoka film he made there (also three Status Quo behind-the-scene films shot in Fiji).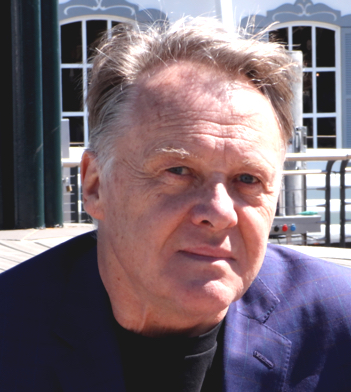 He started in music and radio. Stuart is certainly not all action, his romantic love story, The Scarlet Tunic, based on a Thomas Hardy short story and shot in Dorset was picked up at Cannes and he was against the likes of The English Patient and Annakarena for Best Director at festivals like Verona and Cabourg.
Stuart has been on many ships as either an after-dinner speaker or in the daytime with lively Q&A sessions.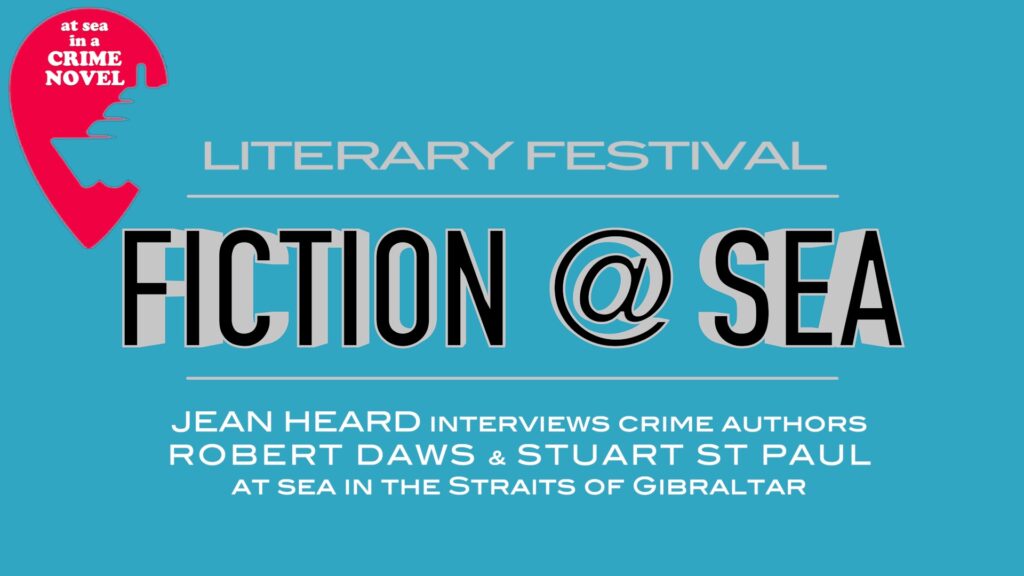 He was on the Aurora talking about the Game of Thrones sailing back from Iceland when force 11 gales and 97 mph winds hit. He likes to recount that he slept through the weather and saw the Viking Sky in trouble. He has yet to use a storm in his six cruise novels this far. Such an event would have to be a subplot to a crime, but his books are like thrillers at the speed of a force 12 gale. He was recently interviewed at a Literary Festival at sea with fellow writer Robert Daws. Click here.
Stuart's author page on Amazon – https://amzn.to/3dnmuX6
Stuart has been nominated in India, Canada, Mexico, France, Portugal and many other places as well as won numerous TV awards back home. His talks are funny and engaging, moving from film mechanics to money & wages, script to man-management on set. They are stories you won't hear anywhere else. He has now written a series of fiction novels. They are all stories that take place on a ship, and to be fair, he does know above and below decks of cruise ships.
Cruise Ship Heist has mostly five-star reviews from cruisers on Amazon. Click here for Amazon reviews from first reads. Be please review if you have read it. Click pictures for details.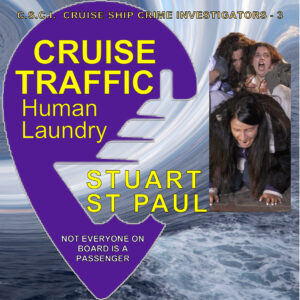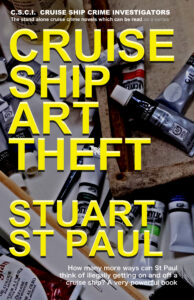 CRUISE TRAFFIC is his third crime novel and is similar to Freight, it is about ships being used to people traffic. CRUISE SHIP ART THEFT, book four is what it says on the cover, but with multiple twists.
The fifth book is DISASTROUS COVID-19 CRUISE SHIP ROMANCE is expected soon, and it covers mental health issues and crimes that cause a problem big enough to call the agency.
Stuart St Paul – speaker – download brochure & testimonials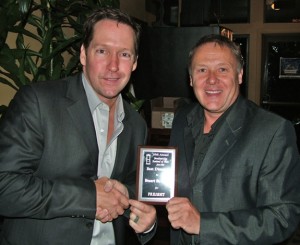 With over ten years as a radio and television presenter, Stuart was 27 before turning to drama. The combination of talents leads him to be a go-to 'in vision' film man for pop videos and light entertainment in the mid-1980s. Making classics like Duran Duran's Wild Boys. The Kemp brothers, The Krays was the first film he co-produced. He appeared three times on Barry Norman's Film Night, was a guest judge on Bruce Forsyth's Generation Game twice, and co-presented the TV special 'Extreme Magic, Extreme Danger' with Ulrika Jonsson. The list includes being one of The Russ Abbott's Mad House team for a while more recently saw him on 'Too Much TV' with Emma Bunton. Stuart also starred, as an actor, in the twice-weekly soap 'Radio Phoenix' for a year, was the face of Woolworth's classic 1980's adverts and the voice of Safeway's adverts for two years. Stuart is a free-speaking entertainer with gripping, humorous, and informative stories that dramatically turn on a knife-edge and have you laughing before thinking deeply.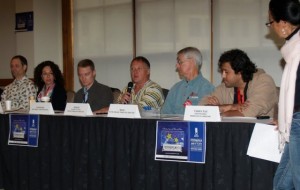 Never working from a script, no two after-dinner talks or lectures are the same. Stuart has worked on ships worldwide from the Pacific to Hong Kong, from The Black Watch to The Britannia and he has spoken at and chaired many major conferences in the UK and the USA.
Stuart has bought, sold and distributed films as well as written, produced and directed them. The Hollywood Reporter referred to him as a tri-hyphenate and IMDB lists him in hundreds of major films and TV episodes from the BBC to HBO. He reveals the business side of filmmaking while explaining how un-frightening horror films are when you see the tricks behind them and no sound. There is another story behind every headline, and these are the ones he shares; the ones you have never heard. He explains how everything is twisted to fit an agenda.
The film Bula Quo, made on the Pacific Island of Fiji, with Rock Legends Status Quo just after the Island's most devastating cyclone in its history is a great story. Bula Quo played in 212 UK cinemas for one night only, this is called an event screening; on 5th July 2012 at 1930 hours.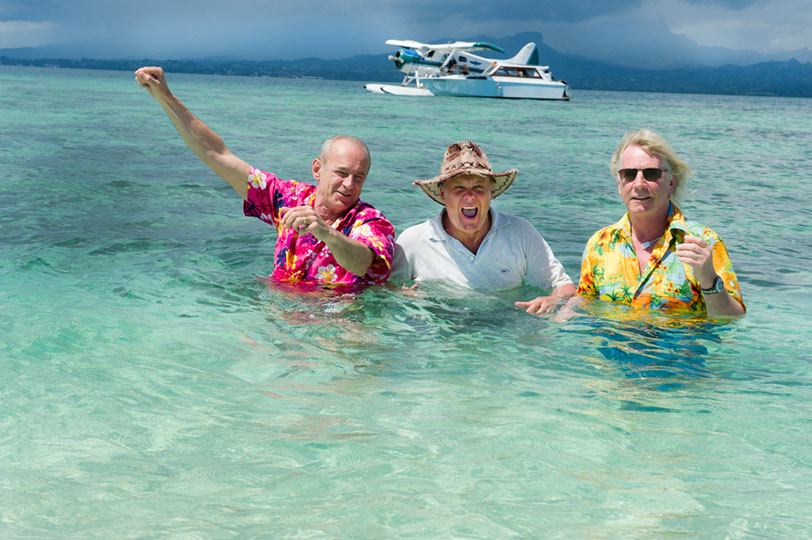 That was the night Andy Murray played the Wimbledon semi-final that went on and on, they closed the roof on the centre court and the match finished at 2120 hours. 13.5 million watched on BBC TV, more listened on the radio, and few were going to the cinema. At the end of that Friday night, having played only ONE show against most films' 5 showings throughout the day, Bula Quo was officially number 9 in the next morning's daily cinema charts. As it did not play on Saturday except on a very small number of screens, it dropped down the chart overwhelmed by the other films additional 5 or 6 more screenings, but still stayed in the top 20. Which was amazing. By Sunday night it was just outside the top twenty and on Monday the figures could be interpreted by some as a failure, not that the press ever likes to find a negative or knock Status Quo!!! However, the acoustic versions of classic rock songs that the film's composer Mark Blackledge arranged did spawn an idea.
Classic Quo or Aquoustic as they were known. Two new unexpected best-selling albums and now Francis Rossi's chart-topping book. See his interview in Fiji. The rock giants had gone on again with renewed publicity and energy and the Bula Quo album was totally unexpected at a time when they might otherwise have decided enough was enough. (see our Fiji blog and film) Some things may change history more than anyone can ever know, this was the first time in years that Francis and Rick had spent four weeks together on such a new and creative venture and it brought them closer. Bula Quo is just one of Stuart's amazing stories that he is telling on his road back after nearly being killed in a major special effects explosion a few years ago. Films are dangerous and fun, but they are big business. A big story he may tell is the madness behind him signing a million-dollar deal-memo to direct a sci-fi movie in 1995, very like Black Mirror / Altered Carbon. The movie, Dream Hunter which was to star James Cann and Jean-Marc Barr fell through as it was considered too risky. Then in the same breath, he was offered a Thomas Hardy love story to direct instead. Madness!
Stuart has just made his first Doris Visits film in vision, (with Jean holding the camera for the first time!). When in Copenhagen he decided to make a film about the footsteps of Hans Christian Andersen. Have a look.
FIRST NOVEL – SET ON A CRUISE SHIP – WHY?
In 2014 Stuart was nearly killed on a movie set. During the physical and mental recovery, he spent almost all his time on cruise ships talking about the better side of his career. His therapist suggested he write to release the stories he was so used to creating. Avoiding the sun as the skin on his head had been badly burned, he started to write cruise mysteries in the lounge while Jean took in the sun on the deck. When they docked, they filmed port guides. Following major brain surgery, he is now back to full speed ahead and is in discussions for the books to be filmed. It has just been awarded an official 5* review from the American online book club.
The first two books which form nearly ten hours of drama in twelve-minute sections, can be listened to on YouTube for free but with a commercial between chapters. These play out to cruise footage.
Cruise Doris Visits Subscribe. Thank you
"I am a writer at heart, I have just imagineered in pictures for forty years. I have written many screenplays, but had to learn how incredibly different a novel is and enjoyed the challenge." Stuart admits. The CSCI Cruise Ship INVESTIGATORS are out on Kindle and paperback. They are beginning to be released as audiobooks and hardback, larger print versions.
"They have to be pacey. They have just enough action, a touch of romance, and keep twisting and turning so the reader cannot guess. All that in a cruise ship was a challenge I enjoyed." Reading like a movie is probably understandable given his career, but that is also intentional. "Sure, I would like to see it be considered good enough to be a movie, so in that respect, I wanted the best reading experience I could give. I think the storytelling skills I have learned over 50 years in the game I turned up to MAX! And I have to say, Tom Hanks was in mind as I started writing Kieron Philips" Click the picture of the book for details.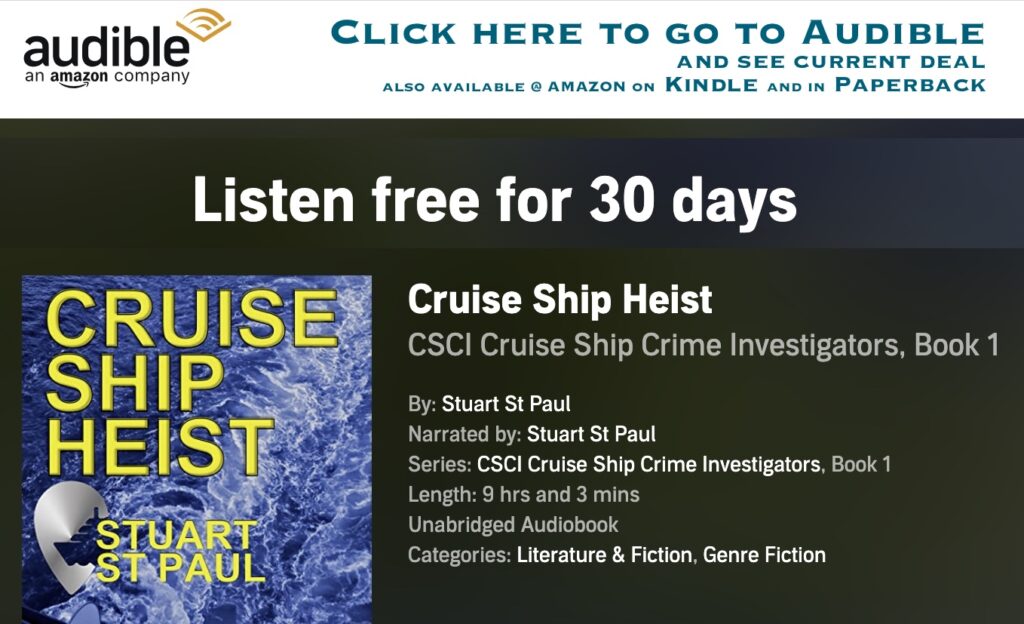 #CSCI #C.S.C.I #Cruise Ship Crime Investigators
A story he tells on stage as well as on the Cruise Doris Visit's Port Guide YouTube channel is of a female stunt performer becoming injured on American Werewolf In Paris.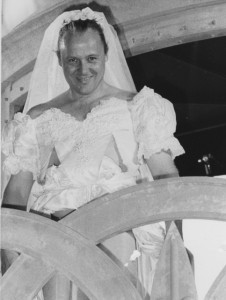 The job was to jump off the Statue of Liberty, and although he had not performed stunts for many years, the costume fitted him in a wedding dress in order to take over. Stuart travelled on the 2017 New England Cruise with the P&O ship Aurora as a guest, to see the Parisian Statue of Liberty that stands in the Hudson to welcome you all to the USA. He made his YouTube film whilst there. See the blog from the Aurora New England cruise when P&O took him back to the Statue of Liberty.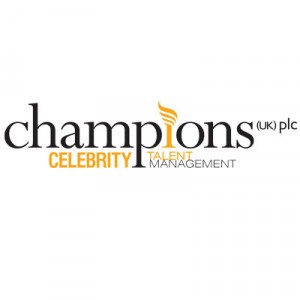 More recently Stuart has been directing 2nd Unit and Pick Up units, like both of Guy Ritchie's Sherlock Holmes starring Robert Downey Jr. Stuart explains multiple units, the re-shoots after testing and so much more. If you get the chance to see him, you will not be disappointed. Click here for his industry cv on the international movie database.
Agent: Lewis Ray & Isabelle Lee at CHAMPIONS
WHAT THEY SAY
We really enjoyed having you speak at the event and you were very well received! We will definitely keep you in mind for future events ☺ Stepahanie Cohen, Account Director. Assured Events
Thank you so much for your speech at the USHA dinner. Thank you in particular for tailoring it to our membership and making it relevant. The feedback I have received so far is that people found your session hugely enjoyable and really appreciated the link to their day job. Neil Budworth. Chair, USHA.
For the reviews of his novels click here.
Stuart has been married to the main Cruise Doris Visits presenter, actress Jean Heard for over 40 years and she has her own one-woman show on the ships. Royal Mistresses. They have two children; the CEO at Nudge Digital and ex-child actor Luke Aikman, and actress Laura Aikman, who with Lee Mack has the funniest out-take from his sitcom. And known as the hated Sonia in the Gavin and Stacey 2019 Gavin and Stacey Christmas special.