There are likely to be six or so ships at the popular port in Tallinn, it is a fantastic busy port! Tallinn is a gem of the Baltics; the Russians built summer homes there.
TALLINN GOOGLE MAP TALLINN TOURIST MAP
Tallinn was definitely part of the Hanseatic league, Tallinn has been a working port for ages. The fort or walled city is just a walk from your ship and although there are likely to be many ships (6 when we were there) it does not feel busy. The route is shown on the film so you can judge for yourself how easy it is.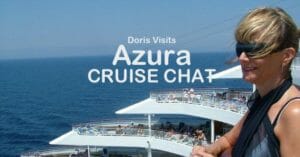 Tallinn Old Town – The first building you come across is the round Maritime Museum, then a block back and to the right, following the steeple, is the cathedral that was once the tallest building in the world. Inside the steeple is a tower of spiral stone steps wide enough for one way traffic but it has to take two- way traffic. So, huge recommendation, go there first, early, before it is busy and the steeple steps are a traffic jam. FRED OLSEN BALTIC CRUISE MARELLA BALTIC CRUISE P&O BALTIC CRUISE SAGA new ships in BALTIC
Cruise Doris Visits Subscribe. Thank you
Walking through the town afterwards is delightful, even better when the sun is out. It is colourful and friendly with many bars and cafes before you get to the main square. There is a tourist street train, horse and carriages and walking tours. The main cathedral is further up the hill, another church with over 100 coats of arms, and a viewing balcony looking back at the old town if you avoided the other church tower climb. You can get a bicycle rickshaw to take you straight there and walk back, but you will miss a lot of what you can find on foot. The walk back down the road towards the station has many artists showing their work on the walls.Find your ship's chat site + share your pictures + experiences to help others Tallinn is a beautify city, an easy walk from the ship, and a small town to master. Let Doris Visits help you orientate and avoid too much Honey Dew Beer.
EASY HELPFUL FILMS & GUIDES TO ALL THE BALTIC DESTINATIONS – Take a look around Doris Visits and get more out of your cruise research – guides, tours, cabin tours, ship tours, news. AABENRAA AARHUS AARLBORG AMSTERDAM BRUGES COPENHAGEN FREDERICIA GDANSK GOTHENBURG HAMBURG HELSINGBORG HELSINKI HUNDESTED KALUNDBORG KIELE KLAIPEDA MALMO MARIEHAHN MURMANSK OSLO RIGA RØNNE SKAGEN ST PETERSBURG STOCKHOLM TALLINN TRAVEMUNDE VISBY WARNEMUNDE
PORT GUIDES – CARIBBEAN MENU OF DESTINATION GUIDES