Tenerife is the largest of the Canary Islands and it has an active volcano, Mount Teide, which often rumbles and has a dramatic moonscape landscape now a National Park. Although the playground for the Ventura for most of the winter we went there with the Azura. Other landscapes here are the verdant valleys and lush plantations and vast pinewoods to the glorious beaches. There is a lot to see, many excursions on hand, but Tenerife has a great bus service throughout the island which I tested. We have a film on La Laguna and one on Puerto de La Cruz as well as films on every cruise stop on a Canary Cruise.click here for the New Canary Island cruise menu including West Africa & Cape VerdeAlso take a look at all the tours below to research what the island has to offer.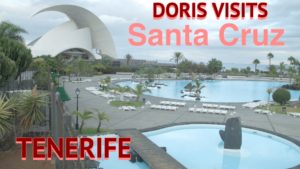 Tenerife's cruise port Santa Cruz de Tenerife has grown from a fishing village to the capital city with 300,000 inhabitants. It is a welcoming city with classy bars and restaurants, shops, and interesting museums. It is easy to walk into the city, follow the blue line, cross the road, round the lake and the tourist office is hidden under an eco garden. The city begins right outside the port gates. If you chose to stay in the city you will find a café-lined boulevard leading to the Plaza de Espana, at the heart of the port's main shopping area. If you prefer museums and galleries, try the Museo de Bellas Artes, which contains works by Bruegel. The Museo de la Naturaleza y El Hombre shows topography, flora and fauna.
Cruise Doris Visits Subscribe. Thank you
If you were in Tenerife with us please share your comments and photos on the chat site, good content on the chat site we can pull into the site here as a helpful blog for others.
Northern Panorama
Loro Parque
Gardens of the Valley
Puerto de La Cruz and Orotava Valley
Mamas and Tapas
Mount Teide National Park
Mount Teide Cable Car
Playa de las Americas on your own
Puerto de la Cruz on your own
click here for the New Canary Island cruise menu including West Africa & Cape Verde
Clicking the DORIS VISITS COMPARE CRUISE DEALS BOX takes you to a variety of deals and explains how they are all found.
DON'T FORGET TO SEE OUR LIST OF ALL THE CRUISE SHIPS, WHO OWNS THEM & THE CHAT SITESAND TAKE A LOOK AT THE LIST OF THE WORLDS CRUISE PORTS – CLICK AND BE AMAZED