Given the King granted permission to open Tivoli Gardens in 1843, it is unlikely they used the name because it spelt I LOV IT backwards, but just about every kid of every age does – love it.

These wonderful gardens inspired Hans Christian Andersen to write the Nightingale. The Park has had an entrance fee since it opened, and highlights have been needed to create an audience. The first attractions were Pantomimes, the Tivoli guard and the Tivoli Boys Guard, which today also has girls and can be part of musical education. Parlour games have been part of the Tivoli experience since 1843, and you can find raffles and wheel of fortune booths amongst the modern huge rides. Some of Denmark's first slot machines were introduced in Tivoli in the 1920's. But, today the Park is best known as a theme park with beautiful and exotic architecture and scenery plus major modern fairground rides. May 2018 saw the 175th birthday, and Walt Disney World Resort added to their huge birthday parade. This is the park that is said to have inspired Walt Disney to build his parks, he was also a visitor here. Ships Dock Here – Google Map position
Cruise Doris Visits Subscribe. Thank you
WALKING TOUR MERMAID STATUE ROSENBORG CASTLE HANS CHRISTIAN ANDERSON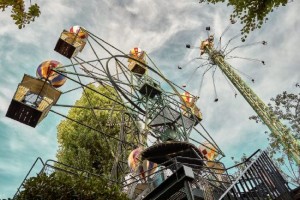 Getting to Tivoli is an easy brisk walk through the Copenhagen up towards the Town hall (which is where the free walking tour starts and we show you how to get there on that film) at the end of the main shopping street. It is close to Copenhagen Central Station. The entrance fees are different for young children and groups. They have a large extensive web site showing events, programmes and prices. The mixture of old and new is what makes this park special, the most popular ride is the oldest, the wooden Roller Coaster from 1914. It is one of only seven roller coasters worldwide which have a brakeman on board every train. There is something for everyone so it is a great family day out, and to make it more special and because they love music, there is live music nearly every day in the main season, from rock to classical. The Copenhagen City Card might save you money.
Find your ship's chat site + share your pictures + experiences to help others
Admission Price is complex so you need to check on the main site, but it is free with a Copenhagen Card and booked in advance on-line can save money. On the gate: the region entrance cost starts at the age of three and is 50 DKK, at the age of eight and above it rises steeply to 110 DKK and a multi ride ticket can be between 200 DKK and 300 DKK. The Main Tivoli site here.
Take a look around Doris Visits and get more out of your cruise research – guides, tours, cabin tours, ship tours, news. AARHUS COPENHAGEN FREDERICIA GDANSK GOTHENBURG HELSINGBORG HELSINKI KALUNDBORG KIELE KLAIPEDA MALMO OSLO RIGA SKAGENSTOCKHOLM TALLINN TRAVEMUNDE VISBY WARNEMUNDE
Research tours here and on your ship.