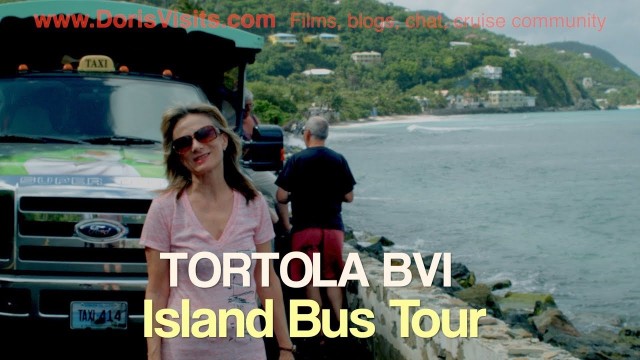 Jean takes the Bus Tour / Excursion for Doris Visits. – Tortola has re-opened, as has it's award winning Pier Park, but in the car park still lie the wrecks of tossed and turned cars and trucks and there is still at least one ship awkwardly banked on the beach where it does not belong. But the famous Island Bus Tour or excursion remains the same, with many fun stops. You will pass the dolphin pen but won't stop with enough time to swim with them, that is a separate tour (end of page). Mountain top look outs have bars as well as photo opportunities, and good rest rooms. There is a very old rum distillery stop and some time on the beach. Bomba's shack the most interesting, but we just drove past slowly. Good job really, it looks like the place you never come out of sober.
Cruise Doris Visits Subscribe. Thank you
P&O Cruises cruises to Tortola – look and book direct with P&O via this link Fred Olsen cruises to Tortola – look and book direct with Fred. Olsen via this link Marella Cruises to Tortola – look and book direct with TUI via this linkSaga Cruises to the Caribbean – look and book direct with SAGA via this link
Tortola Cruise Terminal
A lot has changed since the Arawak first inhabited about 100BC and it has been a centre of shipping throughout, and right through the era of the slave trade. The museum is worth finding. We show it in on our walking introduction to Tortola. It is quite moving and is mentioned in the Solo Cruiser book American Portrait. The new cruise terminal has recently expanded and it looks like there are further plans. The one well-appointed major concrete jetty sits two ships and it looks like a second is planned. Often terminals have free wifi, but here some of the cafes have seen this as an opportunity to drive trade and it comes with a purchase or you can purchase wifi. With tourist volume increasing the facilities will follow. These islands are set for an expansion in tourism that they have not seen since the bubble started. There is a newspaper they issue on arrival, it has some good basic information.
Barbados Guide Antigua Bus Tour Bequia, a trip from St VincentCRUISE DEALS MARRIAGE AT SEA P&O LATE DEALS CRUISE INSURANCEHave you been there since the storm – share, click here for the special CARIBBEAN SEASON destination menu. Each major Island and Caribbean Season Destination has a guide or film about the tours here !WHAT TO PACK CARIBBEAN CRUISE CRUISE THE PACIFIC CRUISE DEALS
Your driver will tell you a lot about the island as you go round. The British Virgin Islands are to the east of Puerto Rico. Tortola is a very popular stop, so you might want to work it out before you go. About 15 of the 50 or so British Virgin Islands are inhabited. Tortola will accept local currency, US dollars but not pounds sterling. However, it is a banking centre for many companies of the rich and famous who keep money abroad. Banking as an industry does not offer tourist opportunities, so as it is a small island built on banking there are not that many things to see or do. Beach sun and sea and a circular bus tour. We show you all the options. First, the island tour. Also see our film of the Tortola Botanical gardens.
St Lucia Port & Beach Barbados Beach Deal Amber Cove Look & See St Kitts Fortress St Kitts Port Basseterre Town Guadeloupe Town & Beach Barbados Guide Antigua Bus Tour Bequia, a trip from St Vincent
The museum we're looking for is not hidden or uninviting, but it's a poorly signposted elevated white house with brown windows that does not even have the lights switched on. Had Aled not pinpointed this as his chosen destination with his smart phone we could have easily walked past it, even if we found our way to the road at the back. I need to get smart with my phone just as this museum needs a little marketing and sales help. Everyone should visit the BVI Folk Museum. I'm stuck to the floor, rigid, staring at a poster that states,

'To be sold on board the ship, 250 fine healthy Negroes. The utmost care has been taken to keep them free from the danger of being infected with smallpox'.

Eventually I raise my head from this dreadful reminder of how awful man is capable of being to fellow man for financial gain. I look around the museum at those who lived through that era and fought for better. Every picture tells a story and each story needs to be read. It shows the history of the islands inhabitation from 100BC when the Arawak arrived. It lists the Africans being here in the year 1200 having come across from the mainland, well before Columbus discovered the already inhabited Americas. He didn't so much discover as herald the nightmares the Europeans started when arriving in 1493, stealing lands and profiting from the slave trade by 1700 then on until the slave act was repealed in 1788. That leaves me cold, wondering if Bristol and Liverpool have museums admitting the same. I note Aled studying each exhibit; making notes and sketches, taking pictures with his camera and making notes again.

"More paintings?" I ask him softly.

"I couldn't do this subject justice, and if I did, they wouldn't sell. People don't want to be reminded why the country they live in has so much wealth," he says and turns his head to scan the room. "We stole most of it, from just about everywhere in the world. It doesn't matter how you get rich as long as you do, eh?" he states sarcastically through a locked jaw.

"We know it's wrong now," I offer and he turns abruptly.

"It was morally and religiously wrong then! Even more wrong, after it was outlawed in England, our ships continued to trade slaves illegally by flying different flags! The wealthy ship owners continued to supply their wealthy estate owning relatives, who had taken all these lands. They did wrong knowing it was wrong, knowing the law had changed!" he lectures passionately. This generation sees things so differently and are not prepared to have things hushed up.

"Good point," I congratulate him, not just because he is right but because he cares. We stand on the veranda looking out and Aled takes his phone again.

"Are you letting people know you were here?" I ask him.

"Damn right I am," he says.

Our film around Road Town features the slavery museum. That location and the botanical gardens you note are locations in the novel for Sally Katz in her book American Portrait. She used our films for research, and because of our relationship with her, we have now had permission to print that extract from her novel – American Portrait. Violet has just got off the ship and the young artist that runs the on board gallery has found her, and asks her to go with him to visit a museum he wants to see.

FROM the cruise based novel AMERICAN PORTRAIT
We have a number of cruise chat sites that are there to be a source of information. The more members the great the knowledge base.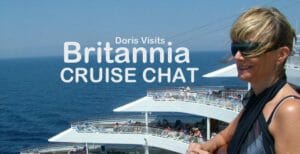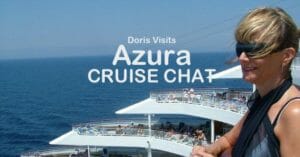 Click here to join the friendly Britannia community and share.
Click here to join the friendly Azura community and share.
We also have hundreds of island tour films to help you plan your days ashore. Click the picture for Antigua tour.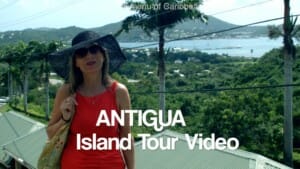 Click this picture for Antigua beach by bus for $2.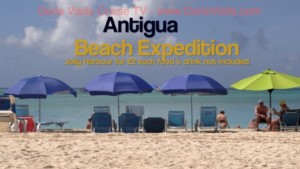 If you are new to Doris Visits Cruise TV then welcome, we invite you to comment at the end of our blogs, and ask you for follow us on here on www.DorisVisits.com and like us on Facebook and follow us on Twitter and subscribe to our YouTube Channel to get the best from us. We are always looking for a social media persons to help us expand so drop us a line anytime at [email protected] PLEASE SHARE
SEE THE CRUISE BEFORE YOU CRUISE THE SEA. We show cruise destinations all over the world.
READ THE CRUISE BEFORE YOU CRUISE THE SEA. In the book charts!
Sally Katz used the films on Doris Visits to peg her books on! With permission. Each book takes place over a cruise! Book 1 is a Canary Islands cruise, Book 2 is in the Baltic, Book 3 is in the Caribbean and has a major story plot in Tortola.
If after reading the exert from the novel American Portrait, you want to load it to your kindle. Click the picture. Learn more about the books you can listen to the first part of chapter one of book 1, Her Virgin Voyage here in another blog. Romance aside we think they are great stories about a powerful and determined single woman.
CRUISE INSURANCE THAT EVEN THE CRUISE SHIPS SELL, AND WE ADD NOTHING ON, JUST CLICK HOLIDAY EXTRAS – OR OUR BLOG
If you are new to cruising then we have a few pages that might be of interest. The first is about choosing that first cruise. It includes what ship and why, as well as dress code tips. Click here.
The second is about what to pack, then click here.
Then we have a page that just collects all the many useful links to get you to the right cruise deal page to see what is going on offer direct from the cruise companies. Click here.
We would be pleased if you booked your cruise via one of our links, if you do then please tell us so we can see if the tracking worked.P&O Cruises cruises to Tortola – look and book direct with P&O via this link Fred Olsen cruises to Tortola – look and book direct with Fred. Olsen via this link Marella Cruises to Tortola – look and book direct with TUI via this linkSaga Cruises to the Caribbean – look and book direct with SAGA via this link