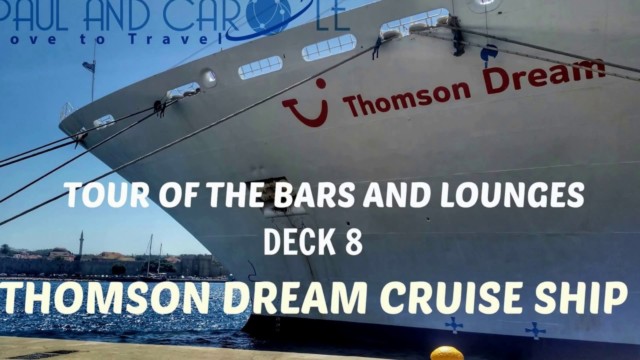 The TUI Marella Dream was built in 1986 and has been owned by Holland and America and Costa cruises, but after a ten lease, TUI Cruises now own this 54,760 tonnes ship. She was 204 meters long, that is 50 meters longer than Roman Abramovich's yacht but like many older ships have been rebuilt and made longer. Now 243 meters long, she travels at 22.5 knots and holds 1,500 passengers and 600 crew. A family ship used to family holidays the ship is always full of smiling faces both crew and passengers. The theatre with the audience on two levels delivers first-class entertainment and there are lounges, bars restaurants and the buffet. This ship normally spends winter in the Caribbean and summer in the Corfu area. We found two interesting films that show you around and we have covered most of the destinations you might aim for.
Cruise Doris Visits Subscribe. Thank you
SEE THE CRUISE BEFORE YOU CRUISE THE SEA. Please follow us on Facebook where our main page has around 85K views a month (2020) and share. CRUISE DORIS VISITS is Cruise Chat, Cruise Port Video Guides on YouTube with around 100,000 views a month (2020), and page-turning Cruise Crime Novels. Cruise Ship Heist, Serial Killer and Laundry Wars.
Deck 4 and above are open to passengers, deck 4 is the Orion restaurant which is the main dining room. It also has inside and outside cabins and main galley, crew messrooms.
Decks 5, 6 and 7 are cabins.
Deck 8, as seen above is the Hercules deck with the Theatre, Medusa ballroom, the Ocean bar and Argo lounge. There is a lecture room, card room and library. Shops, beauty salon, Disco and Kids area.
Deck 9 is Andromeda deck, the upper level of the theatre, the buffet and outside cabins. The is a sun deck and pool.
Deck 10 is the gym and sun deck.
Deck 11 is a sun deck with pools, suites, a la carte and buffet restaurants.
Deck 12 are tennis courts and a sun deck
SEE THE CRUISE BEFORE YOU CRUISE THE SEA. Please follow us on Facebook where our main page has around 85K views a month (2020) and share. CRUISE DORIS VISITS is Cruise Chat, Cruise Port Video Guides on YouTube with around 100,000 views a month (2020), and page-turning Cruise Crime Novels. Cruise Ship Heist, Serial Killer and Laundry Wars.If you have a better video, or would like to shoot one with our help, go to the chat site and DM us. We love to help and TUI fans made our Discovery video.

Click here for your latest official

Essentials – cruise travel labels and our cruise crime novels – oh, and the seasickness bands.

The Port guides here on Doris Visits are a great way to remember your cruise and share with your friends. The crime novels are a whole new experience. You may not have been to the ports in the novels, you certainly won't have been to the parts of the ship they use. All the cruise crime novels will make you feel like you are in the adventure and on the ship – dodge the bullets and stay out of the romance. Ship and cruise accurate, the novels are a great way for new cruisers to discover a ship too. Please share the Amazon link. .CRUISE SHIP HEIST https://amzn.to/2GKQBIp