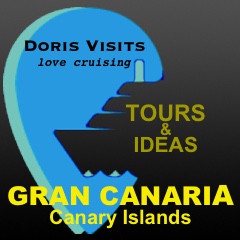 Apart from a walk round the town, a visit to an iconic rock formation, Gran Canaria is about beaches and boiled potatoes with chilli. Take a look at what is on offer if you are visiting La Palma, but don't forget to see our filmed guides as well as this research. These are what you might find from the ship, but take a look at these three below.
Leisurely Gran Canaria
Submarine Dive
Two Stop on your own
Highlights of Gran Canaria
Walking Trails and Wine
4×4 Adventure
Paddle Boarding (bathing wear)
Maspalomas Beach Transfer
MARELLA TOURS click here Fred Olsen Tours P&O TOURS click here
DON'T FORGET TO SEE OUR LIST OF ALL THE CRUISE SHIPS, WHO OWNS THEM & THE CHAT SITESAND TAKE A LOOK AT THE LIST OF THE WORLDS CRUISE PORTS – CLICK AND BE AMAZED
.