It looks like Pullmantur, Spain's largest cruise company may survive with new ships,after a huge restructuring. This is with support and financial assistance from Royal Caribbean International.
Prior to the COVID lockdown, it is a little unclear how much RCI had control as they sold a major part of their stake to Springwater Capital. The company originally an offshoot of a Madrid travel agency and First Choice Holidays now, after some form of insolvency, has plans to survive and it appears definitely RCI driven and with new life.
In lockdown, Pullmantur did file for re-organization under Spanish Insolvency Laws. It is in print, mid-2020, where Royal Caribbean International's CEO Richard Fain announced that not only were the Horizon, Sovereign and Monarch belonging to Pullmantur to be sold, but they had been sold. However, by December the same year, there was a plan to see the company cruise, and with new ships.
The Monarch and the Sovereign are currently being dismantled and broken down. And the two new ships will be two of, the Celebrity's Millennium-Class liners which might be any of the four; Constellation, Infinity, Millennium, Summit.
The Horizon survived. It is a Horizon Class ship which, tells you little and two of the current Celebrity fleet will form the new Pullmantur.
The company and its ships have a close connection to Celebrity Cruises. This, the Horizon, was in fact built for Celebrity in 1990 and called the Horizon. It is often separated from being called a Celebrity Class ship.
208m long
Beam 29m
Speed 21.5 knots
Passengers 1,800
46,800 GT
Propulsion 4 x MAN-B&W diesils
When bought by Island Cruises in 2005, it was called the Island Star. Pullmantur took it in 2009 and re-named it Pacific Dream, but that lasted just a year before they went back to calling it the Horizon to ensure no confusion with other vessels.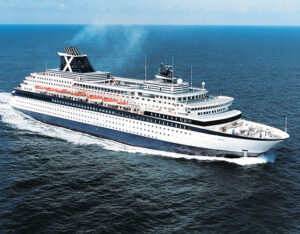 Built by Meyer Werf it has a familiar Celebrity look.