If you have a world cruise stopping at Cochin, Kerala in Southern India then hope that you have an over night because you could spend a life time here as was seen on the 2nd series of The Real Marigold Hotel staring Paul Nicolas, Roy Walker, Sylvester McCoy and Miriam Gargoyles which has a Christmas special that is annually remembered. Everything worked on this series, the cast and the place, but how could you not like Kerala. Jean was inspired to take a tour of southern India because the food is so acclaimed. She also discovered Indian Sula wine (found in the Sindhu restaurants on P&O ships). She had no film crew with her in India, but luckily there is footage from her handicam that shows you just how exciting Kerala is and why it should be seen. Now, you might not expect to scrub an elephant down on a cruise excursion, but Jean did, though we were there for a number of days before picking the ship up. This was shot on a handy cam, long before the days of Jean working for Doris Visits.
Cruise Doris Visits Subscribe. Thank you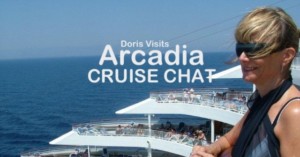 You will feel a a magical welcome to this mystical place with years and years of history. The old town – Fort Kochi (Cochin) has a 16th century Portuguese-built church but a 17th century synagogue which derive from the small community of settlers who arrived 2,000 years ago. There is a bustling new town, Emakulam, too. If you take the Heritage walk look out for the old British raj bank which is now a top class boutique hotel, maybe the best hotel I have ever stayed in. If you are walking by foot, then treat yourself to a drink or lunch at the Malabar House Hotel and just tell it Jean misses it. I thought it quite special, the wine bar upstairs to the right beyond the small pool. Walking the streets of Cochin reveals charm as well as wonderful places like the Cocoacraft Chocolate Factory opposite the Syrian Bank in Market Street. A firm favourite was the Kashi Art Factory Cafe which is a place where you might just have to wait for a table. This is highly recommended if you only have time for one place.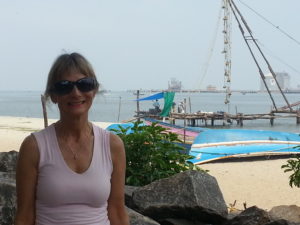 Or you could just walk down and watch the fish being landed, then along the beach and back up the road past the reggae cafe.
Options to eat out are many, including the Armoury Cafe at Brunton Boatyard in Fort Cochin. The live Indian dance, the Kathakali Show is one thing I could have omitted and we make a point of never saying something is bad, you may love a traditional mime dance show. It is an example of traditional art form or drama where the performers play everything out by facial expression and hand gestures. A little like a pantomime. It was an experience but did not need to be a whole evening or as long. The cruise version will no doubt be shorter. Local taxis are cheap and they can also give tours round the area.
Elephant Village. Ride and Washing the Elephants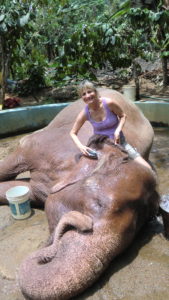 Another highlight was the elephants, not so much the ride but actually spending time with them in the bath. Even though part of the routine is being drenched by them squirting you with with water from their trunks as you will see on the film.
Alleppey – When in Alleppey we walked the back streets up to the railway station, passing houses that people have opened up as AirBnB and Restaurants. Here you book to eat that evening and suggest what you want and they go and buy it in. We took a trip into the local village then got the train back all with little problem once we had managed the work out how to buy a ticket. On the train hawkers come round selling tea and food. It has more of the atmosphere of a small market than a British train where people sit and read contained in their own space. It is an worthwhile experience.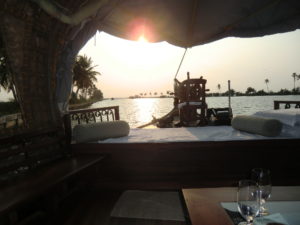 House Boat or Rice Boat – There is very likely to be an experience that goes here from your ship, and it is a shame it is only a 6 hour day trip. The stillness of night is magical. The house boats are also called Rice Boats and it is an experience I highly recommend. It was one of the best trips of my life. We were on this little barge for 3 days and as we joined it we were asked our food preferences, they then bought fresh food at every stop and cooked it to our own liking by our own chef.
Periyar; Tea Plantation and Spice Garden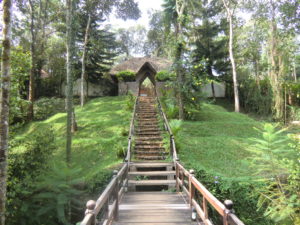 These maybe out of reach of a day cruiser stop, but in Periyar we stayed at a tea plantation and visited a local spice garden and took the sensory tour. From here there are a few things that can be done locally and all are very peaceful and laid back. There are a number of atomic spice gardens and we also went down to elephant village.
If you have never done a world cruise then these stops make it special. If you enjoy Indian food, Jean did a cookery course at a beach hotel, click here.CHAT GROUP – Cruise the Adriatic Chat – New Group, be one of the first to join and start a thread on your forthcoming or past cruise by number – CLICK HERE TO SHARE & CHAT
Clicking the DORIS VISITS COMPARE CRUISE DEALS BOX takes you to a variety of deals and explains how they are all found.
There has yet to be a book written in the Solo Cruiser series that is based around a mediterranean Cruise, but we here that one is being planned and that it takes place on a Strictly Come Dancing Cruise. The 4th book based in Florida and the Caribbean is due out early 2018. For now, if you have not read them, like in 50 Shades you might skim through the raunchy bits, but they are great cruise books with good stories. It never seems to work out the way it should though. Follow author Sally Katz by clicking her name and then on the author page on Amazon, click follow. Then as she releases a new book your are informed.