My desire to see Southern Indai, having done a fair bit of the north, the Taj mahal etc, was from a TV cookery series set here. So, cookery and food was key. The Marari Beach Hotel holds a cookery demonstration / lesson daily around cocktail time. Just after the Tea Wallah has been on the grass and just before you change for dinner ready to sit at the cocktail bar over looking the beach. We sat here one night watching the lightning over the sea.
Two of the many cookery courses we filmed, kind of. Watching both gives an idea of just how there is no recipe but a confidence that these spices, cooked roughly in this order will produce an incredible meal. Each time, each chef, the food is different because they just take the spices and use them to cook.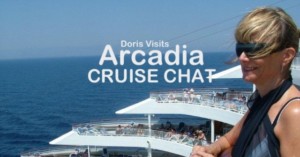 My other film on Cochin, Kerala in Southern India is the more traditional visits blog and film, but there are no rules here and we just loved the India that was the setting of the 2nd series of The Real Marigold Hotel staring Paul Nicolas, Roy Walker, Sylvester McCoy and Miriam Gargoyles. Everything worked on this series, the cast and the place, just thrown together just as these spices seem to be. The two dishes are worth trying to cook. Bhindi Balacera and Kerala Chicken and Cashew. Both start with coconut oil and frying mustard seeds until they pop. However the magic of the local food will not transfer to the UK, because it is fresh vegetables that are full of a wholesome taste that I am not sure I have ever eaten in the UK. Not even when picked and eaten fresh from a farm.
Cruise Doris Visits Subscribe. Thank you
Cruise Doris Visits Subscribe. Thank you
If you have never cruised, and we are mainly a cruise site, then click here to see how to look at what cruising is.
CHAT GROUP – Cruise the Adriatic Chat – New Group, be one of the first to join and start a thread on your forthcoming or past cruise by number – CLICK HERE TO SHARE & CHAT
Clicking the DORIS VISITS COMPARE CRUISE DEALS BOX takes you to a variety of deals and explains how they are all found.
There has yet to be a book written in the Solo Cruiser series that is based around a mediterranean Cruise, but we here that one is being planned and that it takes place on a Strictly Come Dancing Cruise. The 4th book based in Florida and the Caribbean is due out early 2018. For now, if you have not read them, like in 50 Shades you might skim through the raunchy bits, but they are great cruise books with good stories. It never seems to work out the way it should though. Follow author Sally Katz by clicking her name and then on the author page on Amazon, click follow. Then as she releases a new book your are informed.