We like to feature the performers you see on the ships, but sheer time stops us mounting a huge list. Then we see someone who is just so good we have to stop working on ships and destinations and feature them.
"Jon is the best of the best." Vice President, Crystal Cruises – and we echo that quote, he is. He gets a Doris Visits 6 Gold Stars.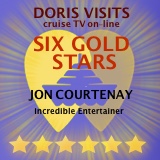 How some of these performers do not have their own TV show is beyond us, but then it is not.
We wrote that years ago!
Now, he has shown the whole of the UK how good he is on Britain's Got Talent, we hope we see him in the final. He will be joined by other incredible acts, and boy does he have some competition. However, those of us who have seen his acts many many times, and had more than a few drinks with him at the staff table after shows, know how good he is and wish him well.
We just ask all cruisers to vote for this man who has been entertaining us on ships for ages. He is on ships week after week and it was obvious how much his children miss him.
Jon deserves to be on TV. He is a talent that excels. He entertains and controls the stage and has his audience in the palms of his hands. I hope we see what an incredible pianist, he certainly has everyone talking about him. If you have not seen him, please watch, please vote.
Where is Jon and what ship is he on – from Celebrity to P&O ships – click here
Jon is a fantastic performer with a unique comedy show combining phenomenal piano skills with some great songs and lots of laughs. His own website says, Jon played the piano at four but his parents said it was far too early and told him to go back to bed. The comedy started when he was told that girls liked a man with good hair or someone that could make them laugh. He had little choice. His humour is simple, so well-timed, so incredibly delivered that he is simply the best. But, on top of his showmanship and comedy, I am not sure when I have seen such an impressive pianist. What he does play blows you away, but it is short enough, mixed up enough not to just be a man at a piano, which is exactly what he is. This is a well-crafted show. His book on tales from sea, SHIPHEAD is a great cruise ship read. Sometimes found on the swap table but for a few pounds why not buy one and leave it for someone else when read. Click picture to purchase on Amazon.
Jon Courtenay – web site His double DVD is available if you love great shows Jon on Facebook – give him a like
Essentials – cruise travel labels and our cruise crime novels – oh, and the seasickness bands.
Good sailing