Many report that this is a great day out in the far north of the island, at Anchor Bay. Popeye Village is where they shot the film Popeye with the late great Robin Williams. Popeye Village Malta has grown from its days as a Film Set of the 1980 Musical Production 'Popeye'. It is now one of the major tourist attractions on the Maltese Islands. Not just the locations, huts and houses to explore, but it is filled with a number of colourful fun activities. They seem to love to dance there. Open all year round we guarantee an enjoyable visit to all of our guests.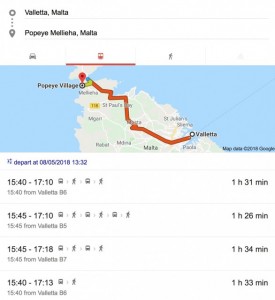 It is like they never pulled the town down when the filmmakers left, and it is a wonderful day out for kids of all ages including us seniors and is worth the informative 90-minute bus ride there. Check on Google.com/transit for the bus routing as there are direct buses, if not the change is easy and will be explained by the driver.
ATHENS METRO ATHENS ICE CREAM ATHENS GUIDE ATHENS HORSE+CARRIAGE ATHENS PLAKA CRETE GUIDE THE VERY SPECIAL RHODES ROME DUBROVNIK ZADAR VENICE NIGHT SAIL AWAY
The film set was constructed in Anchor Bay during the last 7 months of 1979. The film set is an authentic wooden village. Tree trunks were brought from Holland and the rooftops from Canada. Over one hundred and fifty crew laboured to build this set using eight tons of nails and two thousand gallons of paint. 20 wooden structures had to be built. Before construction could begin, an access road leading to the Set had to be constructed. Plus Anchor Bay needed a 200-250 foot Breakwater at its mouth, to protect the Set from high seas during the shooting months of the Film Production. Filming commenced on the 23rd of January, 1980. This is a living breathing authentic film set that is still very much alive.
DORIS VISITS WESTERN MEDITERRANEAN MENU OF PORT GUIDESDORIS VISITS EASTERN MEDITERRANEAN MENU OF PORT GUIDES
For other films shot here in the Hollywood of the Mediterranean, and why film crews flock to Malta, read our movie blog. If you prefer an organised tour look at what your ship has to offer.