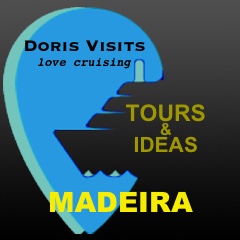 Take a look at what is on offer if you are visiting Madeira, but don't forget to see our filmed guides as well as this research.
Tours available from your ship will probably include
Tea at Reid's
Famous Toboggan Ride
Evening with Folklore (if overnight)
Deep Sea Fishing
Cable Car and Toboggan
Levada Walk
Jeep Adventure
Discover Whales and Dolphins by 'rib'.
The Caves of São Vicente
Eco City Tour, Tuhxi Madeira
Farmers Market and Botanical Gardens
Leisurely Scenes of Madeira
MARELLA TOURS click here P&O TOURS click here
DON'T FORGET TO SEE OUR LIST OF ALL THE CRUISE SHIPS, WHO OWNS THEM & THE CHAT SITESAND TAKE A LOOK AT THE LIST OF THE WORLDS CRUISE PORTS – CLICK AND BE AMAZED
.