Prague is amongst the best weekend treats we spent. It is a fascinating city. Locals love their city and will share bars to try and volunteer places with live music. However, it is said to be one of the top ten pickpocket hot-places to be careful in. But they won't catch you on a Segway.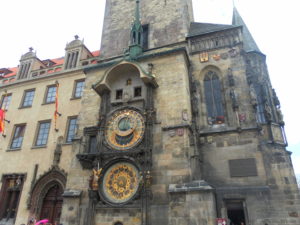 Of all the places we have done a segway tour, this is the best. Whereas some only go up and down the beach or around a park, this genuinely feels like a tour that takes you to places and discovers a city. We did some filming, though it is not a normal Doris Visits travel film.
Pague is often combined with Danube River cruise.
Our page on cruise insurance & requirements: click> INSURANCE & TESTING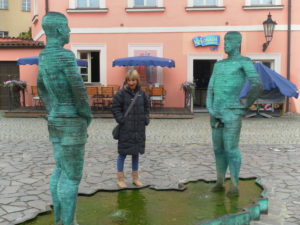 Prague has a strange openness about some things which might not make the streets of London. The statues below are a feature most tours take you to.
The clock in the centre is also a must. I suggest you stay fairly central or in a hotel near a tram stop into the centre which is just as good. Transport is very good. I will be back!
GUIDES AND TOURS MADE IT EASY FOR YOU – Here is a selection that makes a good grounding for pre-visit research
If you like the Segway, see our Lisbon Segway tour.
XXXXXXXXXXXXXXXXXXXXXXXXXXXXXXXXXXXXXXXXXXXXXXXXXXXXXXXXXXXXXXXX
These links take you to the cruise operators own website - book direct - have your online contact direct with them

CHAT GROUPS – a fantastic way to help others and a place to find answers. We run Facebook Groups for cruisers – see the list in black boxes after the ships and fleets listed above.