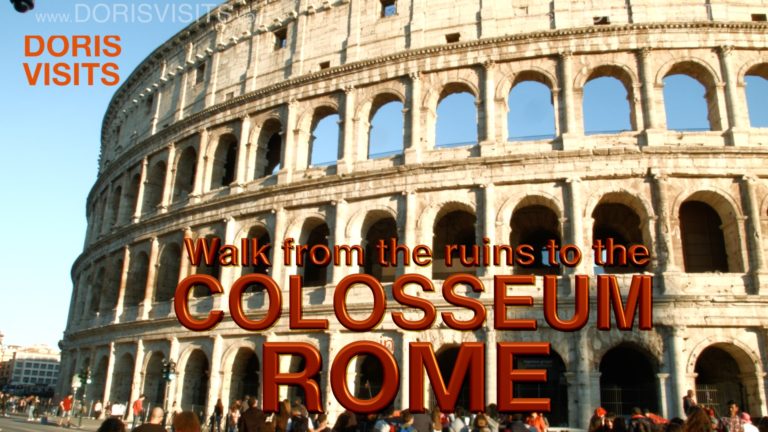 The walk from King Vittorio's Monument to the Colosseum passes by many ruins. The walkway is charming in the summer and normally full of street performers. It is a paved way that is rather like a promenade and a peaceful break from Rome's busy roads. There is a skip the line option here too, and it covers a number of things to see inside the Colosseum. All of this area has been subject to earthquakes, stone robbers and time. What is left oozes with history. The actual Colosseum or Coliseum, was also known as the Flavian Amphitheatre. Built of travertine, tuff, and brick-faced concrete, it is the largest amphitheatre ever built not including modern stadiums, because it only holds between 50,000 and 80,000 spectators. Construction began under the emperor Vespasian in AD 72, but it was completed under his successor and heir Titus in AD 80. Modifications were made during the reign of Domitian (81–96). These three emperors are known as the Flavian dynasty, which is why it is known as the Flavian Amphitheatre. It was used for gladiatorial contests similar to the Russel Crowe film Gladiator. However, the less film remembered part of its past was public executions and other events used to try and sell tickets such as re-enactments and large-scale theatre like mock sea battles.
There's a chat group for your ship – click here to find it
Cruise Doris Visits Subscribe. Thank you
GUIDES AND TOURS MADE EASY FOR YOU
Choose from these many tours in Rome and book direct CLICK HERE

Please subscribe to the Doris Visits YouTube Cruise Destination Guide channel here
Essentials reading of a cruise. You will cruise with the storey.
The Port guides are made by us, here on Doris Visits. They are a great way to research a port before booking or going, for tips and to save money. They are also a way of sharing with others where you have been. The crime novels are a whole new experience of a port. You may not have been to the ports in the novels, you certainly won't have been to the parts of the ship they use. All the cruise crime novels will make you feel like you are in the adventure and on that cruise.
This is what we do……
Cruise Doris Visits Subscribe. Thank you
Enjoy your cruise