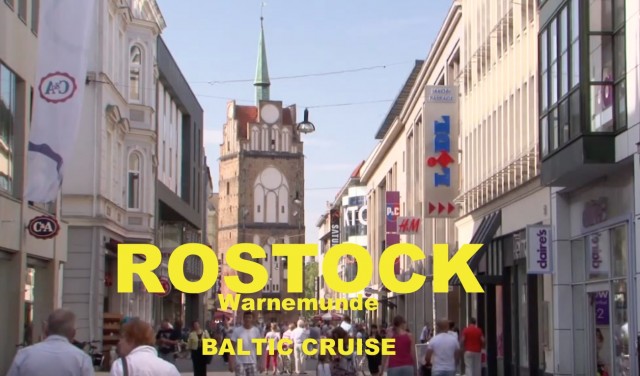 Warnemunde and Rostock are about 20 minutes apart, either side of the huge inlet and can be at the start or finish of a Baltic Cruise.
The port of Rostock is at the mouth of the Warnow River on the Baltic Sea opposite Warnemunde. The port can accommodate ships with a length of up to 300 meters, a width of up to 45 meters and a draught of up to 13 meters, though the P&O Britannia is BIGGER and got in there. Bang goes their dress code!
The city of Rostock dates back nearly 800 years as a Hanseatic and harbour city and has a lot to see as Jean shows us for Doris Visits.
Cruise Doris Visits Subscribe. Thank you
Since the beginning of the 15th century, Rostocks city centre has been characterised by its University with the likes of Albert Einstein. The university also has a huge music and arts section. Rostock has history of shipbuilding and training of navigators and seamen.
As well as the old hanseatic village, there are nearby sandy beaches that stretch for miles. If you are going in by yourself all is easy to see on a walk round, the astronomical clock is Rostock's true focal point and it can be found on the the 15th century St. Marien Church. City Hall, and bars and alfresco dining in the New Market Place and on the water are also impressive. It is a German seaside town for local tourists as well as cruisers.
JOIN THE COMMUNITY OF YOUR FAVOURITE SHIP & CHAT – Click to find it
Disaster in the Baltic ! Violet was a passenger and has now found work on the ship in marketing and as an older model. A shock lease of life at her age. The novel that takes place on a Baltic Cruise, life isn't that easy! Action romance on a cruise with adult themes.Follow author Sally Katz by clicking her name and then on the author page on Amazon, click follow. Then as she releases a new book your are informed.Find your ship's chat site + share your pictures + experiences to help others ALL THE BALTIC DESTINATION GUIDES Take a look around Doris Visits and get more out of your cruise research – guides, tours, cabin tours, ship tours, news. AARHUS COPENHAGEN FREDERICIA GDANSK GOTHENBURG HELSINGBORG HELSINKI KALUNDBORG KIELE KLAIPEDA MALMO OSLO RIGA SKAGEN ST PETERSBURG STOCKHOLM TALLINN TRAVEMUNDE VISBY WARNEMUNDE WARNEMUNDE
If you found this Norwegian Cruise Line film interesting, many UK cruisers use NCL, especially those who want a less dressy cruise. Check out NCL ships NCL Chat
PORT GUIDES – NEAR UK + SHORT CRUISE W.EUROPE MENU TO BALTIC PORT GUIDES – BALTIC SEA MENU OF DESTINATION GUIDES
As well as ship arranged tours, you might find some useful research here.