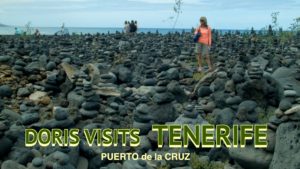 It might be the case that your ship does not sail until late and you can be a little more adventurous that you might be, even if you do want some time on the beach too. Jean was filming a number of things and she could have easily got the bus direct to Puerto de la Cruz, as she did on the way back. But from La Laguna, her first stop and a great film on another blog, she got the number 30 from the bus garage at the other end of Trinidad. Arriving in Puerto de la Cruz you need to think about what you want to accomplish. If you want to see the botanical Gardens, we suggest you get out there first. Not only can it close early (certainly 6pm), but you will then be walking down hill to Puerto de la Cruz, not up hill to the gardens. On the way down you will pass the Orchid Gardens where Agatha Christie and William Wilde, Oscar's father have stayed, and then continue to walk down to the sea. A late sailing would mean you have time to do the gardens and go down and enjoy Puerto de la Cruz for late afternoon and early evening. The promenade is very attractive and the coastline is dramatic. We treated ourselves to lunch overlooking the bay.
Cruise Doris Visits Subscribe. Thank you
One day we will cover the gardens and post the film. In the mean time we do have films on La Laguna and Santa Cruz in Tenerife and on the main menu below, we have all the islands and some tours.click here for the New Canary Island cruise menu including West Africa & Cape Verde
Clicking the DORIS VISITS COMPARE CRUISE DEALS BOX takes you to a variety of deals and explains how they are all found.
If you were in Tenerife with us please share your comments and photos on the chat site, good content on the chat site we can pull into the site here as a helpful blog for others.CHAT GROUP – Cruise the Canaries Chat – New Group, be one of the first to join and start a thread on your forthcoming or past cruise by number – CLICK HERE TO SHARE & CHAT
Northern Panorama
Loro Parque
Gardens of the Valley
Puerto de La Cruz and Orotava Valley
Mamas and Tapas
Mount Teide National Park
Mount Teide Cable Car
Playa de las Americas on your own
Puerto de la Cruz on your own