Hamburg is on the banks of the Elbe River, from the UK it can be a short party cruise, a local cruise, a gateway to the Baltic. Hamburg can feature in so many cruise programs. However, it is for many a taster, a few days on a ship for the first time. Hamburg on Google Maps

Beatles first foot in Hamburg was on the 17 August 1960, to play at the Indra Club on the Grosse Freiheit street for owner Bruno Koschmider, who also owned the Kaiserkeller. It was a 48 night booking. Their audience was often very small and mainly ladies of the night looking for business in the busy port town. Women and sailors paid for the musicians, who were often told to keep the volume down as women lived, worked and slept in the rooms above. The first night they were in shock, and often had second thoughts. Apart from the first night when they slept on the floor of the old businessman, Bruno Koschmider's small apartment, their living accommodation was in the back of a little cinema, the Bambi Kinorough, and it was far from luxury. They were paid £2.50 each per day for performing four and a half hours on weekdays and six hours on weekends. It doesn't sound a great deal, but then cruise ship bands sometimes do longer hours! However, George Harrison is quoted as saying, "The Reeperbahn and Grosse Freiheit were the best thing we'd ever seen, clubs and neon lights everywhere and lots of restaurants and entertainment. It looked really good. There were seedy things about it, obviously, including some of the conditions we had to live in when we first got there." The rest as they say, is history. This, St Pauli area tour is very often a separate tour for adults only, see our tours page.
There are many links to help. We also have a great Liverpool section which includes the Beatles Museum, and a tour by Paul McCartney!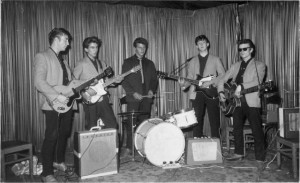 This is an early Beatles picture from the Indra Club.
See our own tour of Hamburg by Jean Heard, and the Town Hall Tour and Miniatur Wunderland. Plus an incredible find, a coffee shop that has a mini coffee bean roasting factory active for visitors to watch.
CLICK HERE for our new BALTIC CRUISE destinations menu – All parts and tours together, then a choice of every Baltic port in its own menu. CLICK HERE
Cruise Doris Visits Subscribe. Thank you
If you have just been on your first party cruise, have a look round Doris Visits, at the ship tours. You might want a smaller ship. A large ship with much entertainment and premium restaurants. The fun is the research. Cruise Web sites are not always easy to follow and can be notoriously complicated. Here's how other ships circumnavigates the globe.
EASY HELPFUL FILMS & GUIDES TO ALL THE BALTIC DESTINATIONS – Take a look around Doris Visits and get more out of your cruise research – guides, tours, cabin tours, ship tours, news. AABENRAA AARHUS AARLBORG AMSTERDAM BRUGES COPENHAGEN FREDERICIA GDANSK GOTHENBURG HAMBURG HELSINGBORG HELSINKI HUNDESTED KALUNDBORG KIELE KLAIPEDA MALMO MARIEHAHN MURMANSK OSLO RIGA RØNNE SKAGEN ST PETERSBURG STOCKHOLM TALLINN TRAVEMUNDE VISBY WARNEMUNDE Find your ship's chat site + share your pictures + experiences to help others
FRED OLSEN BALTIC CRUISE MARELLA BALTIC CRUISE P&O BALTIC CRUISE SAGA new ships in BALTIC
Doris Visits, where you find the most cruiser friendly port and destination guides. We think like cruisers because we are cruisers, all of us. Join one of the chat sites.The Doris Visits list of Facebook community and chat sites for ships
PORT GUIDES – WESTERN MEDITERRANEAN MENU OF DESTINATION GUIDESPORT GUIDES – EASTERN MEDITERRANEAN MENU OF DESTINATION GUIDESPORT GUIDES – CARIBBEAN MENU OF DESTINATION GUIDESPORT GUIDES – CANARY ISLAND MENU OF DESTINATION GUIDESPORT GUIDES – FJORDS MENU OF DESTINATION GUIDESPORT GUIDES – BALTIC SEA MENU OF DESTINATION GUIDESPORT GUIDES – BRITISH ISLES CRUISING DESTINATION GUIDESPORT GUIDES – NEAR UK + SHORT CRUISE W.EUROPE MENU OF DESTINATION GUIDESPORT GUIDES – SHORT CRUISE W. COAST FRANCE PORTUGAL – DESTINATION GUIDES