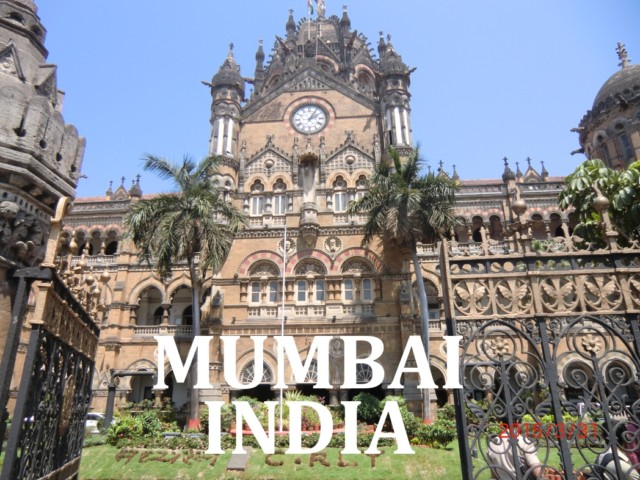 Mumbai, the capital of India where you have to visit the slums and the wealth. We love India and have toured it a few times, sometimes from a world cruise.
ARCADIA WOLD CIRCUMNAVIGATION BLACK WATCH WONDERS OF THE WORLD
The second Status Quo movie was planned to shoot there however Rick was unwell during the first film and sadly it the second film never was even though we went and did the research and planning and worked out how to have him do less. The first film, Bula Quo was shot in Fiji which spawned the two unplugged Classic Quo albums after they did the unplugged Fiji fusion Quo tracks, we have planned Namaste Quo, with a Bhangra fusion / Quo Rock…. but we diverse, MUMBAI. This was the first time to the capital Mumbai, previously known as Bombay. A word of warning, India is one of the worst places to enter, they love paperwork and if your visa is not correct they will send you back home and not allow entry. It has happened to one of us flying into Chennai with a visa where the required number of entries on that visa had all been used. Arrested, flown back. Entry to India was a long process, with immigration officers boarding the ship and everyone lining up to be interviewed in the restaurant on board. It made Russia look easy. Even the USA is easier.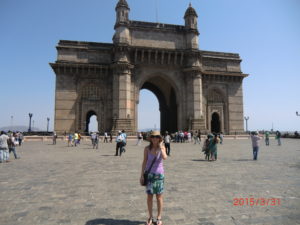 The Gateway to India, an Indian Arc De Triomphe marks the entry to one of the world's most buzzing cities, Mumbai, and the City is the gateway to a vibrant and diverse country.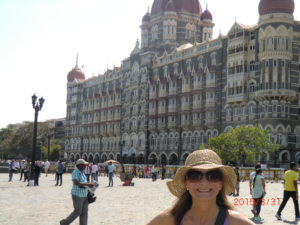 If you end or start a cruise in Mumbai then try to extend your stay there. You might like to stay in style at the Taj Hotel near the arc, it is beautifully appointed and has some stunning restaurants inside. As long as you are smartly dressed they will let you inside to look around, however they might not let your guide in.
If you walk further along the front you will find many other large houses, small hotels that are like a road of seaside bed and breakfasts that are much more realistic in price.
What To See in Mumbai
Chhatrapti Shivaji Terminus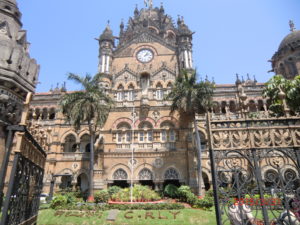 It is not a difficult place to find, but our guide, a local could not and did not know where it was. We sorted him out then got to the bottom of why he was guiding. He was really a guide for the Slums seen in the film Slumdog Millionaire, and had been called to cover a friend. So, we went to the station, then bonus, we went to the slums. We did not photograph the slums as we were asked not to. The atmosphere there was one of joy. There was a school and factories inside.
Marine Drive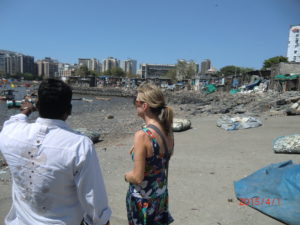 But first we went for a stroll across town and found Marine Drive with the broad seafront promenade and skyscrapers. The Nariman Point with the serene greenery of Malabar Hill, is the best introduction to the sheer variety of this fascinating city which we covered in full on another day.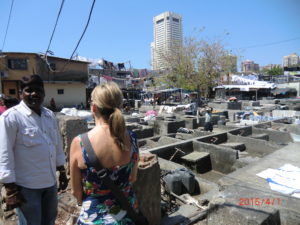 Laundry, Malabar Hill
On a another day we started at the city laundry, then went up Malabar Hill to visit the terraced Ferozeshah Mehta Gardens, which overlook the Arabian Sea and the famous Towers of Silence. Until I went there I did not know that hanging gardens were to hang dead bodies so the birds eat the flesh.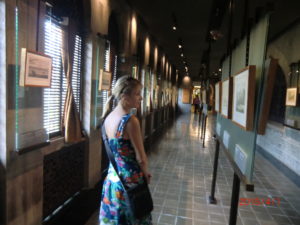 Then we went down to Crawford's Market (now Jyotiba Phulle). The frieze above its entrance was designed by Rudyard Kipling's father, and Rudyard's childhood home lies right opposite.
The elephant caves were worth a look, but beware of the monkeys at the far end. If they see you have water or food, they will be confident enough to come and take it. There are two refreshment stalls there and the monkeys know. They watch for someone to buy a bag of crisps, then steal it. Wonderful theatre but not for the person with the tucker.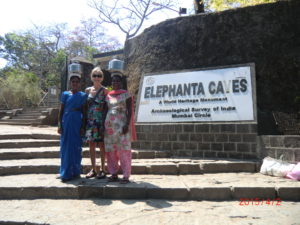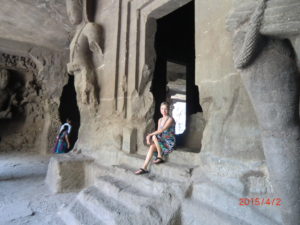 You will do this, so send us your more accurate versions.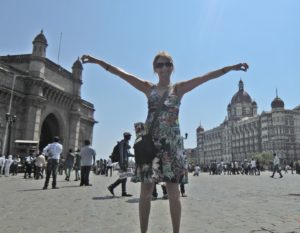 Mumbai is a fast paced bustling city and does not represent the wonders India has to offer elsewhere. I think of all the places in India we visited it was our least favourite and you should not judge India on just one place. See our other blogs on Kerala and the Golden Triangle from New Delhi.
And my dentist is in Chennai – not paying UK prices when most of the dentists I know were trained in Chennai anyway! Sorry we did not do video in India, but it was before the Doris Visits TV channel was suggested. We have some footage from Cochin, Kerala.
This visit was on the Arcadia's world cruise 2016. I has a major cruise every year. Here is the next one.
CHAT GROUP ARCADIA – if you are on a world cruise then there are a limited number of ships that do this, the Arcadia is one – If you did the world cruise or have a forthcoming world cruise – CLICK HERE TO SHARE & CHAT
DORIS VISITS COMPARE CRUISE DEALS BOX takes you to a variety of deals and explains how they are all found.