Rome is a great weekend away or a wonderfully busy day from a cruise ship stopping at Civitavecchia. The train in is quite easy but we cannot stress enough two things, one, you MUST VALIDATE your purchased train ticket before getting on the train. Secondly, give yourself time to get back. I guess there is a third tip which is to watch all the Doris Visits films and try and plan what you want to attack. For all the times I have been there I have never been inside the Vatican, but have seen wonderful things others may not have. That said the train journey in is just under an hour, but lasts another 20 minutes if you go all the way around Rome.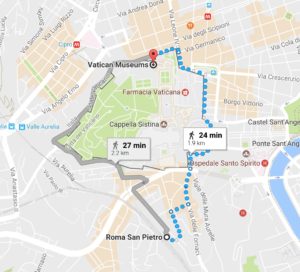 You can, therefore get off at San Pietro for St Peter's Basilica and save 20 minutes in the train and take a 24-minute walk in. See Google Transit it works well for Rome. Turn right when you see the city walls, the gate is on the left. We have joined the Pantheon and the Piazza Navona together for a few reasons. They are almost next to each other and they are both based on classic old historic sites. Piazza Navona is a space that was an arena, like Wembley, Ibrox Park or the New Camp. (wiki links are used in the history passage for those who wish deeper knowledge)CHAT GROUP – How did you find Rome and the Train – Cruise the Mediterranean Chat – New Group, be one of the first to join and start a thread on your forthcoming or past cruise by number – – CLICK HERE TO SHARE & CHAT The Stadium of Domitian was built in the 1st century AD. It was for the entertainment of the Romans and was known as "Circus Agonalis" ("competition arena"). Later in the 15th Century it became a public space and a market. In the film you will see a model of the square as an old stadium. This model is in a window of a building on a corner as you enter the square and should be given some time. The square is very beautiful and a great place to eat and drink looking at the fountains; in the centre the famous Fontana dei Quattro Fiumi or Fountain of the Four Rivers (1651) each represented by a river God. The Obelisk of Domitian, placed on top brought in pieces from the Circus of Maxentius. The fountain at the southern end is the Fontana del Moro with a basin and four Tritons sculpted by Giacomo della Porta in 1575. In 1673, Bernini added a statue of a North African Muslim, wrestling with a dolphin. At the northern end is the Fountain of Neptune (1574) which was also created by Giacomo Della Porta; the statue of Neptune, by Antonio Della Bitta, was added in 1878 to create a balance with La Fontana del Moro.
DORIS VISITS WESTERN MEDITERRANEAN MENU OF PORT GUIDESDORIS VISITS EASTERN MEDITERRANEAN MENU OF PORT GUIDES
Beyond it is the Pantheon, built on the site of a church dating back to the time of Christ, it was, and Pantheon means, a temple for the worship of every God. There may be a queue to get in but it is worth it and it is free. If you are only in Rome for a day or even two, these could well feature on your list and both are part of the Angels and Demons film starring Tom Hanks. See Jean's tongue in cheek but very good Angels and Demons self-walking tour.
Cruise Doris Visits Subscribe. Thank you
A brief orientation of Rome so the City won't come as a big surprise ends with a suggestion. There is another way to see Rome. How about re-living the clues in the movie Angels and Demons.
GUIDES AND TOURS MADE EASY FOR YOU
Choose from these many tours in Rome and book direct CLICK HERE

While on YouTube please also subscribe to Doris Visits.CHAT GROUP – Cruise the Mediterranean Chat – New Group, be one of the first to join and start a thread on your forthcoming or past cruise by number – – CLICK HERE TO SHARE & CHAT

Clicking the DORIS VISITS COMPARE CRUISE DEALS BOX takes you to a variety of deals and explains how they are all found.
Essentials reading of a cruise. You will cruise with the storey.

The Port guides are made by us, here on Doris Visits. They are a great way to research a port before booking or going, for tips and to save money. They are also a way of sharing with others where you have been. The crime novels are a whole new experience of a port. You may not have been to the ports in the novels, you certainly won't have been to the parts of the ship they use. All the cruise crime novels will make you feel like you are in the adventure and on that cruise.

This is what we do……

Cruise Doris Visits Subscribe. Thank you

Enjoy your cruise