Big West End Shows and West End stars are the 'meat' and 'loaf' of cruise ships, which is our interest. This show, or an adaptation, will work on cruise ships very easily. Onboard the big night at the theatre is just along from your cabin, after a silver service dinner in a fine restaurant. Classic cruise ship…… Ships at sea have 1,000 seater, full-on proper theatres where most guests dress to go and those who have never cruised will not understand. So this musical is one we tip to be morphed to sea like a 'Bat Out Of Hell' and the reason we were on the red carpet at the Dominion last night. So powerful is this brand the musical's web site is often timed out due to user demand. I can see why many love it just as I can see some may not. Hey, that's life, this is a show riding on a legend and we conceded no one can sing this rock opera with the passion of Meat Loaf.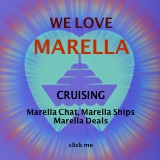 Those who cruise have seen Grease, Saturday Night Fever and all the classics done on cruise ships, and this, like them is a typical girl meets boy that dad dislikes story. The rest is singing and dancing – but one of the top five greatest albums ever made (by sales and chart). Released in 1977 it has been in the charts for over 500 weeks. BAT OUT OF HELL has sold over 43 million copies and been certified platinum 14 times! To recap, it was an unexpectedly huge hit, a debut at this level by American rock singer Meat Loaf, who was chosen for his incredible rock opera type voice. Try and list other stars that could have done this and it is like trying to list people who might replace Freddie Mercury to front Queen. This album, now over 40 years old was the first collaboration with composer Jim Steinman and producer Todd Rundgren. We suggest this will be the new, modern cruise ship musical, and be more current than the rest because it is a classic that has found a new young enthusiastic audience, maybe the ones that chase Secret Cinema, because it is more than a musical, it is an event.
A few years ago we were at the opening press night of We Will Rock You, and it was obvious that it would run on every cruise ship. As film producers, we have many friends who produce musicals who tell us the current game in town is to get a musical into the West End, then the income from sell on to cruise ships is huge. SIDE TIP, watch out for the Olivia Newton-John story, film in a year or so, musical maybe five years, cruise ships six years. We were asked to pitch to make and direct the movie of Dreamboats and Petticoats, but that is still in what we call development hell. These projects can take years. Why mention the ONJ film, because, allegedly she has no part in the film. maybe this will get to sea in some form very early. But, we just saw the real thing, well, an adaptation of Jim Steinman's musings and knowing no one can sing with the passion of Meat Loaf…..
Cruise Doris Visits Subscribe. Thank you
Last night we went enthusiastically to see the official opening night and press night of the new version of the 40-year-old Bat Out Of Hell. Red Carpet and party nights are always strange affairs – up until then the shows are called previews. This night is all posh frocks, party atmosphere, press, faces from TV and a pro audience of other musical players and stars. What this translates to, is the audience cheer and whoop when artistes start a big number, or in the case of these songs survive an incredible line of song that defies lung capacity.
CRUISE INTO GAME OF THRONES LOCATION DUBROVNIK
Here is where this show is interesting, and why we say new and modern and to be the new kid at sea. It's a very ambitious multi-media event. The main stage does all the fancy changes you expect, but either side of centre there are two earpiece stages set back and elevated, with gauze nets that can drop in front. The right-hand stage is the girl's bedroom and for all the musing of love, scenes with mum, the maid and the boy who breaks into her room… Romeo and Juliet? …. there is a cameraman on stage with them but cleverly not focussed by the lighting. What he films is projected as close-ups of their performance on the gauze left of the screen and vice versa. Just like a modern rock concert where you have the stage wide, with its semi-urban Mad Max setting with old TV's scattered each side showing those pictures too. The filmed theme goes further in projecting reduced capacity shots of her on her own bedroom walls as she sings and dreams of love. At sea where most ships are now fitted with LED backdrops, these filmed events will no doubt be paralleled by played in film sections. Film projection also leads to a motorcycle crash on stage which is impressively capped by the blood that appears on the artistes, a Pulp Fictionesque extreme that modern entertainment demands. But these events are humorous when dad pushes a car off the stage into the orchestra pit we see musicians running away complaining. Needless to say, you might expect to see a bat fly.
DORIS VISITS WESTERN MEDITERRANEAN MENU OF PORT GUIDES
The problem the cruise ships will have is the level of talent that is required for these numbers which it is claimed are a mixture of influences Wagner, Phil Spector, Bruce Springsteen and The Who. What is clever is that the songs Meat Loaf then sang at the age of thirty with some life experience (emotions of rage, anger as well as perfectly pitched romance) are split between various members of the cast. There is no way all the numbers could be done by one person nine times a week. The elder members of the cast certainly mix those emotions better than the younger ones, but not to take anything away from anyone, they are all amazing. Still, the musical We Will Rock You, was a challenge the cruise ships accepted and have done amazingly, with Brian May joining them on stage to congratulate them.
I know many people knock cruise ships, but they are the current outlet for live entertainment and whilst it could be argued it is like watching Championship, not Premiere League (sorry but football on ship is also an amazing time, we will be on the Britannia for the World Cup sailing into St Petersburg!) – it is an amazing standard. The negative is that the cruise ship will not have a cast of 34 and an orchestra of 12, maybe a cast of 16 to 20 and an orchestra of 8 to 10. But it will benefit in that cruise ship shows are normally 45 minute shows twice a night – not the full 2 hours 30 once. The at-sea show become a best of and in that respect, I think will remove the wobbly bits in the West End's long version which might have had a better story. It will be an adaptation, it will not have Emma Portner's choreography but maybe an interpretation, which could go either way. The cast at sea will manage these numbers as they have Freddie's some will find it hard to match these stars, some will match the standard and I wait with interest to see how. As for this production, staged by Jay Scheib, which opened at the Manchester Opera House back in February 2017 then transferred to The London Coliseum then Canada's Ed Mirvish Theatre by the end of that year, it is not perfect but it is pretty amazing. After some minor tinkering along the way it is now back at the Dominion for one might expect a seriously long run. So, for the cast we saw, I will now give great credit.
CAST
STRAT – Andrew Polec has already won awards for this Mad Max type urban-underground lost-boy age 18 forever. Meat Loaf's are big shoes to fill, and as a teenage character, you can forgive the lack of anger a current young artiste lacking the Vietnam war-torn upbringing Meat Loaf's generation would've had in the '60s. He is, without doubt, lighter than Meat Loaf but has the nice rhythmic upper sections, if not the emotion though those who saw him a year ago say he has got wilder. Tough job very well done.
RAVEN – Christina Bennington plays the girl, a parent dominated and sheltered moody teenager searching to rebel. She falls in love with Strat, a perfect rebellion. She has some great numbers, including an amazing version of 'For Crying Out Loud' and fulfilling the duets she works well.
SLOANE (mother) – Sharon Sexton. Amazing, amazing performance! Every detail, every moment, comedy and emotion is well played and well sung. She is wonderful. Even her costumes are amazing. Kicking the sofa to the beat amazing.
FALCO (father) – Rob Fowler is great, having to deal with a predictably written panto bad guy, he overcomes that story and plays it superbly in every way. Duets with his wife, Sloane are brillianr, the double duet with Strat and Raven is incredible. 'Paradise By The Dashboard Light' is amazingly performed, sung and staged.
SSP comment – opening lines are weak, not a great start – a show that improves and is well done. The time flies by, the music is legendary and well sung. The book is weak. The last number is by far the best staged, best danced and sung. If you get the chance go and see it.
Cruise Doris Visits Subscribe. Thank you
If you are a young artiste wanting to work at sea. Staff all have life boat duty 24/7 so cannot be over an alcohol or drugs limit and are regularly tested. Like the musicians who get a different headline act every day and have to play the new songs from dots with one mini rehearsal, singers and dancers have to change shows, learn dance and sing without long rehearsals. You will be doing a number of shows from Grease to Mama Mia to We Will Rock You in the same cycle. They are often auditioned and released in basic shows at places like Pineapple London or Peel Productions in Skipton, so read our page on working at sea.
If you are interested at knowing some of the headline West End stars doing their own one-person show at sea, or the special cruises with the likes of Alfie Boe and Katherin Jenkins, at sea or seeing a pop legends like Gerry and The Pacemakers or rock legends like Status Quo on a ship, then have a little search around Doris Visits.
Find out more about the entertainers working at sea ON BOARD ENTERTAINMENT join their Facebook Pages and & please share with your friends.
Essentials – cruise travel labels and our cruise crime novels – oh, and the seasickness bands.
The Port guides here on Doris Visits are a great way to remember your cruise and share with your friends. The mystery thrillers are a whole new way to experience cruising. You may not have been to the ports in the novels, you certainly won't have been to the parts of the ship they use. All the cruise crime novels will make you feel like you are in the adventure and on the ship – dodge the bullets and stay out of the romance. Ship and cruise accurate, the novels are a great way for new cruisers to discover a ship too. Please share the Amazon link. .CRUISE SHIP HEIST https://amzn.to/2GKQBIp