At last, we have a video of the renewed Century Class ship; Marella Explorer! There was quite some launch party in Palma after the naming ceremony, and surprise surprise, Craig David appeared on deck to perform. Now, Andrew McAlpine runs around deck for us here at Doris Visits just weeks after it enters service. It certainly shows you all the ship. Sit tight ready for take-off.
Click here for your latest official
See our tour of the Marella Discovery 2
Cruise Doris Visits Subscribe. Thank you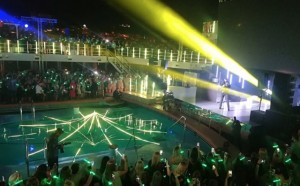 The 1,924-passenger Explorer presents a modern face for Marella Cruises, delivered from dry-dock in Cadiz on time. In just 4 weeks they laid 45 square kilometres of carpet with over 1,600 workers from different teams stepping over each other to get the work done. They ran 60km of data cable to 650 Wi-Fi access spots for those guests who like to permanently be in touch and log onto Doris Visits whilst away to check our guides on their next destinations. The ship's new flagship bar, the Indigo, the club and casino were all busy, but the first Champneys Spa at sea was taking the night off. The ship now has 20 bars and restaurants.
Explorer page of the TUI site Champneys has designed the state-of-the-art spa. The Explorer will sale out of Palma with more facilities than any of Marella's other ships and be Marella's biggest ship at 260m long with ten passenger decks adding to their fast-growing fleet. It is currently finishing refurbishment and will offer ten places to eat including the open-air Mediterranean Restaurant with both Pizza and Tapas restaurant areas, plus the Kora La, Surf 'n Turf, Snack Shack and Uma Sushi. Built in 1996 this was originally a Celebrity Cruise ship and with TUI in a joint venture status both under the Royal Caribbean parent, it was Mein Schiff 1. It could hold 2,860 passengers and 900 crew but what will it be like now? Here is the 'before' film, and we soon hope to post the 'after' film. The Kora La will have Oriental-style lanterns and paintings are paired with a pan-Asian menu of curries and noodle dishes. This will be a fine-dining addition and there will be a small premium to eat here. The ship may end up looking different to the film below, but it can't be that different, this is the ship BEFORE. The itinerary is in and out of Palma, Majorca, Spain which makes it a fly cruise, something TUI with their own planes do so well. Day 3 it hits The Godfather territory, PALERMO, Sicily's capital which is an exotic blend of Middle Eastern architecture, Baroque buildings and colourful marketplaces. Day 4 you will arrive in pizza heaven, NAPLES, the home of the famous pizza festivals. It is said to be Italy's most red-blooded city. Day 5, LIVORNO, Italy the gateway for PISA. Our Pisa guide shows you how to get there easily by train.
DORIS VISITS WESTERN MEDITERRANEAN MENU OF PORT GUIDESDORIS VISITS EASTERN MEDITERRANEAN MENU OF PORT GUIDES
Click here for your latest official
Essentials – cruise travel labels and our cruise crime novels – oh, and the seasickness bands.
The Port guides here on Doris Visits are a great way to remember your cruise and share with your friends. The mystery thrillers are a whole new way to experience cruising. You may not have been to the ports in the novels, you certainly won't have been to the parts of the ship they use. All the cruise crime novels will make you feel like you are in the adventure and on the ship – dodge the bullets and stay out of the romance. Ship and cruise accurate, the novels are a great way for new cruisers to discover a ship too. Please share the Amazon link. .CRUISE SHIP HEIST https://amzn.to/2GKQBIp