A ship tour of the Aida Luna.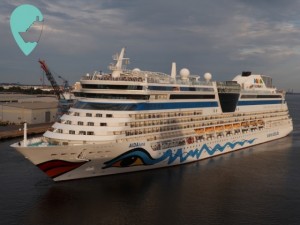 Carnival ships cruise line that sails out of Germany, and is a German speaking line, where many people speak English. They also have the Pepper Robots around the ships to show you the way, answer questions or dance with you. They speak three languages. These cruises are a learning experience.
This is a medium size ship with up to about 2,500 guests.
Here is the UK Passengers and Friends Aida Cruise chat – click here
Cruise Doris Visits Subscribe. Thank you
Here is the ship. You have seen inside and out. So what is it you need to check out now ?
WEST MEDITERRANEAN
GIBRALTAR CEUTA PUERTO BANUS MALAGA MONTRIL – GRANADA ALMERIA CARTAGENA ALICANTE VALENCIA CASTELLON TARRAGONA BARCELONA PALAMOS ROSES SETE TOULON MARSEILLES St RAHAEL CANNES VILLE FRANCE (NICE) MONTE CARLO SAVONA GENOA PORTOFINO SANTA MARGHERITA RAPALLO LA SPEZIA MARINA di CARRARA LIVORNO PIOMBINO ROME – CIVITAVECCHIA NAPLES SALERNO CAPRI CORSICA SICILY SARDINIA IBIZA
Purple Parking – under 'Airport' – click 'Southampton Port' – click here for the Doris Visits Discount – they even do meet and greet
EAST MEDITERRANEAN
MALTA SICILLY VENICE ZADAR DUBROVNIK ISTANBUL MYKONOS SANTORINI CROTONE CORIGLIANIO CALABRO RAVENNA ROVINJ RIJEKA ŠIBENIK SPLIT HVAR KOTOR SARANDE CORFU CEPHALONIA ZAKYNTHOS OLYMPIA GYTHIEO ATHENS – PIRAEUS KUSADASI – EPHESUS RHODES CANAKKALE – GALLIPOLI IZMIR BODRUM MARMARIS ANTALYA CRETE – Chania, Souda Bay
CARIBBEAN
ANTIGUA ARUBA BAHAMAS BARBADOS BERMUDA BONAIRE CANAVERAL COSTA RICA COLUMBIA CURACAO CUBA DOMINICAN REP – AMBER COVE GRENADA GUADELOUPE JAMAICA KEY WEST MARTINIQUE MEXICO NEW ORLEANS PANAMA St THOMAS St KITTS St LUCIA Sint MAARTEN St VINCENT (& Bequia) TORTOLA TRINIDAD & TABAGO