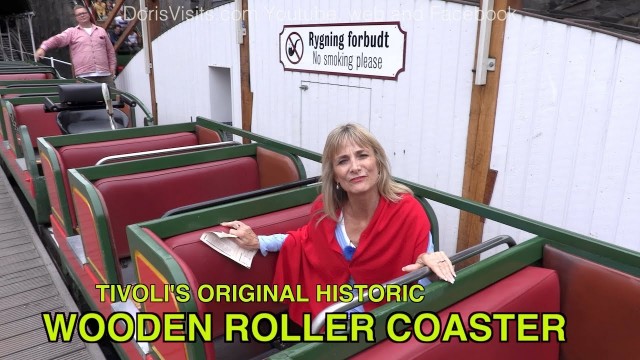 This is one of the oldest running wooden roller coasters in the world. It was built in 1914 and is one of Tivoli's most popular rides. It is suitable for all ages but young children must be accompanied by an adult – and you really feel the surge in your stomach. It is to this day still the most popular ride in the park with the majority of visitors. We stepped up to the park, thanks to their PR department for giving us a license to film. There is little that you can film in a theme park as you cannot feature children and you are not allowed to carry anything on most rides. Guests have to visibly be seen to empty pockets and take unstrap-able shoes off. But, what we cannot have failed to do is gain a collection of images that show that this is not just a commercial venture on every square foot, but a relaxing park.
Cruise Doris Visits Subscribe. Thank you
The roller coaster is wooden, and still has a brake man controlling the speed from the middle of the train. It is a big feature of the park. We do have a film of the park as well as one on Hans Christian Anderson and all the highlights of Copenhagen in our Copenhagen section. See the Baltic stops below, click to see what we have.
If you are thinking of a Baltic Cruise here is our menu of every major Baltic Cruise destination and some tours and excursions on video, plus tips. EASY HELPFUL FILMS & GUIDES TO ALL THE BALTIC DESTINATIONS AABENRAA AARHUS AARLBORG AMSTERDAM BRUGES COPENHAGEN FREDERICIA GDANSK GOTHENBURG HAMBURG HELSINGBORG HELSINKI HUNDESTED KALUNDBORG KIELE KLAIPEDA MALMO MARIEHAHN MURMANSK OSLO RIGA RØNNE ROSTOCK SKAGEN ST PETERSBURG STOCKHOLM TALLINN TRAVEMUNDE VISBY WARNEMUNDE Find your ship's chat site + share your pictures + experiences to help others
FRED OLSEN BALTIC CRUISE MARELLA BALTIC CRUISE P&O BALTIC CRUISE SAGA new ships in BALTIC