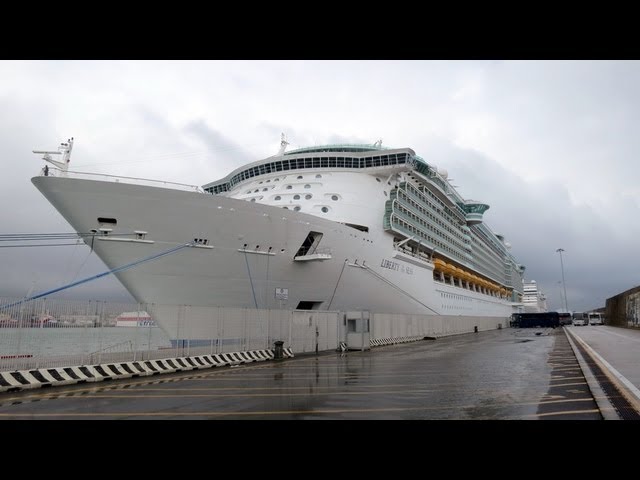 Liberty of the Seas is said to be one of the most beautiful cruise ships afloat, Mogens Hallas has made this film to share here at Doris Visits. This firm favourite with kids, old and young is coming back to base at Southampton for 2017/2018. Once this Freedom Class ship was the biggest class of cruise ship in the world. The first ship in its class was called Freedom of the Seas, and I am sure that will not surprise you as it is a tradition with Royal Caribbean. The first Oasis Class ship was called Oasis of the Seas, now the largest class, and the first Quantum Class ship was called Quantum of the Seas. In February 2016, Liberty of the Seas went into the ship yards to add cabins atop the front of the ship, introducing new restaurants, and making enhancements to the pool deck. This made her bigger than the other Freedom Class ships. It has the legendary Flowrider which generates the ability to surf. It has an ice skating rink and unusually a boxing ring – a touch of the Ernest Hemmingway's and his love for boxing. He had a ring in his garden in Key West, see our film. Liberty of the Seas started the 3D DreamWorks Experience back in January, 2011. Characters meet and greets, character parades, table-side visits from characters during meals as well as 3D DreamWorks movies on board. Of the 18 decks, 15 are passenger accessible. It has a normal passenger capacity of 3800 and 1300 crew. It has a travelling speed of 21.6 knots. Liberty will have itineraries that take it round all the popular routes from the Mediterranean to the Caribbean. The hit musical Grease will be on stage this summer (2017). Find out more about the entertainers working at sea ON BOARD ENTERTAINMENT join their Facebook Pages and & please share with your friends. If you want to work at sea, remember it is no party it is work, you are always on call for life boat duty so cannot drink! Random breath tests are done daily on most ships and crew have been known to be dismissed. But if you are a dancer and singer and want to work on ship then here are some answers.
Cruise Doris Visits Subscribe. Thank you
CRUISE INSURANCE THAT EVEN THE CRUISE SHIPS SELL, AND WE ADD NOTHING ON, JUST CLICK HOLIDAY EXTRAS – OR OUR BLOG


Check out some of the great Cruise Routes, our concise films of what a ship offers when it takes a specific route. These are typical routes but we do have films to help cruisers on every popular cruise destination in the world.
Want to look around the ships, take a look at our ship tours.
Click here for the special CARIBBEAN SEASON destination menu. Each major Island and Caribbean Season Destination has a guide or film about the tours here !

Clicking the DORIS VISITS COMPARE CRUISE DEALS BOX takes you to a variety of deals and explains how they are all found.
CHAT GROUP – Cruise the Caribbean Chat – If you love the Caribbean then share here. Chat and answer other people's questions. Here is where you are the knowledge base – CLICK HERE TO SHARE & CHAT