Key West is a wonderful destination at the tip of the FLORIDA KEYS – Just ninety miles from Cuba, Key West goes down as one of my favourite places ever.
One I would like to live in for a while. There are many reasons it is a great place, but let me start with it is somewhere that makes you smile and feel good. And to think it was once nearly reduced to zero population by the government … see the film. Over the years it has been bought and sold, fought for by the Spanish, the English. The Calusa people who were the original inhabitants would never hold such a strategic point that was for some time known as the Gibraltar of the west. Trust me there is no comparison.
St Lucia Port & Beach Barbados Beach Deal Amber Cove Look & See
Ernest Hemmingway had a house there which we do visit in the film. It is not dissimilar from the one he had in Cuba. There are many Hemingway stories to be told here, the one that hits you is that depression ran in the family and so many of them committed suicide. But, the house does not feel down, it is a wonderful enlightening even though it now appears to be a cat home as there are more than many asleep where they wish. If you like cats, double bonus! The pool is his wife's invention, having it built while he was away with a mistress, ripped down and destroying his boxing ring. The Ernest Hemingway house was a highlight.
Cruise Doris Visits Subscribe. Thank you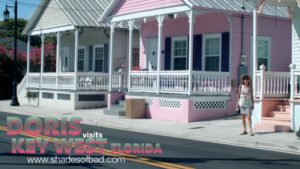 The wooden houses are charming if not a fire hazard, which is why they have tin roofs. Many of the properties are three windows or doors wide which is an art nouveau theme that you see from Miami down. But Key West is different from Miami and long may that be the case. It is small, bohemian, artistic and welcoming. The houses are in pastel shades and it looks like toy town. The island is small enough to trip round and still have hours to spend.
St Kitts Port Basseterre Town Guadeloupe Town & Beach
CONCH TRAIN TOUR – We took the Conch train and I would highly recommend it. The driver was friendly and so informative. He was retired and taken the job of the Conch driver for fun. He had lived in Key West all his life and certainly knew his stuff. As well as telling us the history he had very funny anecdotes and brought the tour to life. I thought it was like disneyland without the rides. Once again the guides are entertaining and knowledgeable.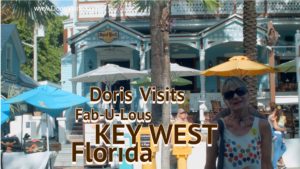 ENTERTAINMENT – When you are ready for lunch you are spoilt for choice. I had the coconut shrimp in a restaurant overlooking the main street. As we wandered along many of the bars had live music and we were drawn into one where a very talented singer songwriter was performing. The people in the bar were a mix of locals and tourists. Everyone was friendly and there was a laid back congenial atmosphere. Having spent a lifetime in the entertainment industry when I find live entertainment it is a plus, especially when it is good. Key West is full of Musicians who seem to move from bar to bar on a well organised roster, and they appear to be busking. But I could be wrong. If you like listening to soft rock and live music you might just take the bar crawl as your tour.
Barbados Guide Antigua Bus Tour Bequia, a trip from St Vincent
KEY WEST OVER VIEW – I urge you to have a look at our film on Key West then go and see for yourself. I can't wait to go back there and would love to see the more of the Florida Keys.
WRECKERS – The stories of the locals being wreckers, and becoming rich from the ships that failed on the reefs is very interesting. The lighthouse and buoys kind of took away their income, as did artificial sponges. So it is a good job they found tourism. If you have a film of Key West we love to add films. Please email us via the web site contact us. Click here for the special CARIBBEAN SEASON destination menu. Each major Island and Caribbean Season Destination has a guide or film about the tours here !